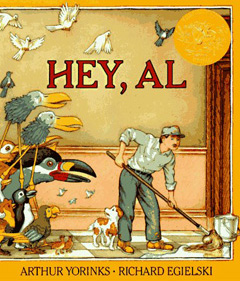 Way Back Wednesday: Caldecott Celebration!
Hey, Al
By Arthur Yorinks; pictures by Richard Egielski
Wonder if Joni Mitchell read "Hey Al" before she wrote her big hit "Big Yellow Taxi" with those famous lines:
Don't it always seem to go

That you don't know what you've got

Till it's gone.

They paved paradise

And put up a parking lot.
Don't think so because her hit was released in 1970 and "Hey, Al" won the Caldecott in 1987. But the sentiments are definitely similar!
Al and Eddie his pooch are janitor and friend, living in a one-room apartment, probably not unlike many people in urban areas today. They eat together and watch TV. What's not to like? Okay, their vistas are a bit narrow, granted. Life can be a struggle.
Gradually Eddie the dog puts a cloud of discontent over their home when he complains all they do is "work" and to quote Eddie, "Pigeons live better than us." Careful what you wish for Eddie! Sure enough, a giant, fantastically colored bird pokes his feathered head inside their apartment window! He promises the ancient whispered word, CHANGE! He has a place in mind with no cares and no worries – a virtual Eden. Al gets to thinking as Eddie starts packing. And off they go to an island in the sky. Sounds great, right? And it is  – for a while.
Parents, this is a very thought provoking picture book for young readers and is apt to cause lots of questions and teachable moments on "Happiness" and how much we are willing to change ourselves in order to achieve our concept of happiness. Change is not always for the better as Al and Eddie discover in this tale of the tantalizing specter of giving up something to get what they want and in the process, perhaps giving up what they unknowingly had along. Is the tradeoff worth it if we have to change too much into what we are NOT in the process? Great song Joni, and good Caldecott winner too!