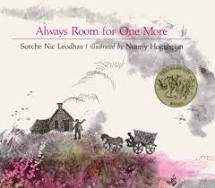 "Always Room for One More," by Sorche Nic Leodhas; illustrated by Nonny Hogrogian
Do I dare offend the Scotish people by the intimation that they are thrifty? Well, this 1966 winner of the Caldecott Medal for illustrations by Nonny Hogrogian will disabuse any and all of that presupposition.
I have wanted to blog on Nonny Hogrogian for some time, and this is the time.
She also won the Caldecott for illustration in 1972 for her picture book called "One Fine Day."
And Sorche Nic Leodhas has been invested in passing down the rich oral traditions of the Scottish people in her books. for young readers.
Meet Lachie MacLachlan, who is generosity to a fault. He lives in a "wee house in the heather." Living there with a wife and a mere ten bairns, the kind and generous Lachie is given to inviting every single traveler that passes his door on a stormy night to come in.
And there are many!
He assures them all ""there's always room for one more."
And just who is assured?
Why, a tinker, tailor, shepherd, sailor, gallowglass ( a mercenary soldier), fishing lass, a merry wife, peat cutter, and even a shepherd dog, sing and dance the night away till the walls of the wee cottage fairly bulge!
Young readers will take to the pace and rhyme of this enchanting tale of generosity:
"Then the rafters they clappit like thunder,
and folks in the nearby town
Stood stock-still to listen and wonder,
When the little wee house
with its but and its ben
What will Lachie do now amid the rubble and ruin?
"They wailed for a while in the heather,
As glum a a grumpetie grouse,
Then they shouted, "Have done with this blether!
For Lachie MacLachlan
His wife and bairns,
We'll raise up a bonny new new house."
And its huge!
"Then the whole lot of them stood at the door,
And merrily shouted, "There's room galore!
Now there will always be room for one more,
Always room for one more."
Soche Nic Leodas is also the author of a Newbery Honor Book called "Thistle and Thyme."
Ah! In this time of tumult and tension, please allow your young reader to take in this wonderful book of kindness rewarded and the feeling that it can generate in a picture book; and from it, to the world.