Peter Spier's Noah's Ark and Art Will Sail Forever
Noah's Ark
Illustrated by Peter Spier
With the passing of Peter Spier on April 27th of this year, it seems fitting to shed the spotlight on this Caldecott Award winning artist for his Noah's Ark  from 1977, as well as a National Book Award given for the 1982 paperback edition. It was also named to the Lewis Carroll Shelf Award List in 1978.  Spier's The Fox Went out on A Chilly Night was a Caldecott Honor book in 1961. For all of this, and so much more, The Snuggery wanted to recognize these classic picture books' achievements and the artistic techniques of this extraordinary picture book artist named Peter Spier.
Richard Sandomir painted a verbal portrait of Spier's work in the obituary of the artist that appeared recently in the New York Times, and I quote:
He imbued "Noah's Ark with the cinematic sensibility

of a Cecil B. DeMille epic, filling it with a cast of creatures

that seems animated on the page. He showed Noah's toils,

like pulling a donkey onto the ark and trying to snatch

two bees out of a swarm. He tossed in visual jokes,

like sheets flapping on a clothesline and rabbits who enter

the ark as a couple and leave it as a herd.
I remember this picture book particularly well as it came out when my now-grown children were quite young. We went to the American Booksellers Convention and there were posters of Peter Spier's Noah's Ark front cover available for convention goers, which Mr. Spier had personally signed. Such riches were treasures to cherish.  And we do.
If you are a lover of picture books, please go to a book store and browse through the dozens of Peter Spier books such as, in no particular order :
 People-1980 – Christopher Award
Christmas – 1983
Circus – 1992
Rain – 1982
Bored, Nothing To Do -1978
We, The People – 1987
The Erie Canal – 1970
Oh, Were They Ever Happy! – 1978
And believe me, just as the Noonan children in the last title listed here, were happy with no baby sitter showing up as mom and dad are out, as the helpful kiddies decide to paint the house ( a needed chore) in the parents' absence, so too your own young readers will point and poke to their heart's content at the elaborate detail of Peter's eye for detail.. and the delight that he created for generations of children, including my own. The end result in this title is a collage of color!!
Born in Amsterdam, Peter's father, Jo, was also an illustrator, who along with his wife and sons were imprisoned, yet subsequently freed, from a concentration camp in Czechoslovakia in May of 1945.
Such early tragedy in his life is a testament to art as a way to reinfuse that which is harmful and instead renew it with the creativity and resilience of the human spirit. It did for Peter Spier; and we are the happy recipients of its continued zest for life in the picture book.
Here is my review of Noah's Ark from 2014 from The Snuggery as well as Jan Brett's take on the Great Flood.
Peter Spier's 1977 Caldecott Award winning take on the story of The Flood is more kid relatable, at least for those of picture book age, than Russell Crowe and Jennifer Connolly as Noah and wife in the PG-13 spectacular and darker movie variation called Noah. Even Anthony Hopkins gets into the act as Noah's grandfather, Methuselah. Spier's version was named an ALA Notable Book, New York Times Best Illustrated Book of 1977 and winner of The Christopher Award.
Peter Spier's version does know a thing or two about the tale, for his telling in picture form has all of the essentials of the movie and is way less scary The two by twos are there in all their jammed packed glory. His ark is very "arky" and true to the image one has of the famous boat that sailed forty days, and as comedian Eddie Izzard observes in his routine, "C'mon, the nights are implicit!" They travel on one of the most famous of sea voyages along with Noah's family and a boatload of snakes, insects, lions and tigers (caged of course), otherwise it would have been a munch fest! Russell Crowe's boat in the movie is more rectangular and made from the Tree found in the Garden of Eden!
Two of everything else you and your child can imagine is living together in very close quarters! The sense of claustrophobia in the movie version, I've heard, is a bit unnerving, but then Spier's Mr. and Mrs. Noah do not have an easy time of it either. His illustrations convey in beautiful watercolors, the preparations for the journey, the day in day out passage of time as man, bird, beast and every living thing get along, or try to, for the 40-day sojourn. Even Mrs. Noah grabs her husband in a big hug as the rain stops and the dove returns with a leafy branch from the appearance of land. It is a very human moment.
As the ark initially departs, I felt really sad, and your child may too, as there are animals left behind standing in knee-deep water as the rain pours down and the doors of the ark close. I can imagine those animals nudging each other and saying, "Hey, where do we fit in this scenario?" Scene shifts to the ark sailing hundreds of feet above cities and the land they once sat upon. Very powerful!
But Spier's telling is by no means grim. It is realistic, closely detailed and invites a child to pore over the drawings and ask a ton of questions. Suggestion: Reread Genesis in the Old Testament if possible beforehand. Listen to this review from The Horn Book Magazine that is a tribute to an ancient tale that is timeless and told specifically for the picture book reader:
Peter Spier's characteristic panoramas are marvels of minute

detail, activity, vitality and humor; a few of the scenes are

quiescent and serenely beautiful.
Peter Spier spares no detail of the scene inside the ark after the animals offload with the elephant first off! They have to call in Merry Maids, no question!
Since we have a vineyard, I was quite moved when the FIRST thing Noah plants in the new land is a VINEYARD. The scene is simply lovely with a rainbow arcing overhead!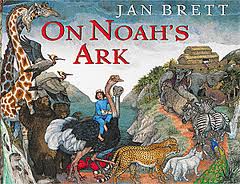 On Noah's Ark
By Jan Brett
May I also suggest another wonderful retelling of this story called On Noah's Ark by that wonderfully talented and much touted picture book author, Jan Brett? It is seen through the eyes of Noah's granddaughter who helps everyone settle in for the journey. Jan's great love for animal life is evident on every page as she lovingly recreates the passengers on the big boat. Ever one for realistic research and detail in her books, Jan and her husband traveled to Botswana, Africa to see many of these animals in their own habitats. As Jan says, "To be physically close to Africa's creatures was a primal, rapturous experience." The panels surrounding the illustrations are taken from the papyrus plants they saw as they paddled in the Okavango Delta.
My favorite illustration is the granddaughter of Noah cuddled up and asleep on a soft furry lion's mane as the long voyage continues.
I think it helps readers to see the same story told in two very different styles by two picture book artist's that have the technique to detail the minute moments and the great ones of a story that continues to recreate itself in children's lives in many forms as art, books, and toys.