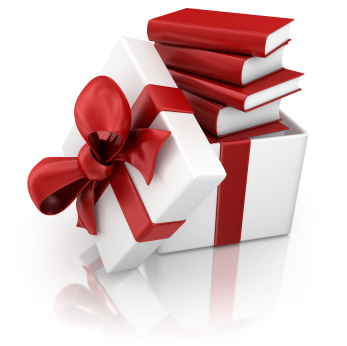 Books to Celebrate the Holyday and the Holiday
Books Create Christmas Memories of the Heart
Two favorite quotes I remember this time of year are, "Memory is a gift of the heart", and Thomas Jefferson's, "I cannot live without books." Memories and books are inextricably linked for me. Books create memories that resonate with enjoyment lasting long after this coda I remember as a child from a musical version of Clement Clarke Moore's, A Visit from St. Nicholas. Imagine if you will, the night after the visit from Santa with this poignant added verse:
'Twas the night "after" Christmas,

And all through the house

Not a creature was stirring

Not even a mouse.

"The presents are scattered and broken, I fear,

And St. Nicholas won't come again for a year."
Hearing those lines as a child, I found them strangely sad, but true.
What memories will we give to children this Christmas? Don't laugh, but I still have the Bobbsey Twin books (by the way, these classic books are still in print), inscribed by my parents from Christmases when I was 4, 5 and 6. Am I the exception in this regard? Perhaps, but somehow I don't think so.
Tried hard, but I have no memory of the toys that were under the tree that year or where they are. But each time I pick up those books, I am immediately linked to Christmas memories of years past and of the pleasure those books gave as I read and reread them.
Anita Silvey, former publisher of children's books, former editor of The Horn Book and regular speaker on children's literature, echoes this feeling when she said in the introduction to her book, "Everything I Need to Know I Learned from a Children's Book."
When we give children books, we become part

of their future, part of their most cherished

memories, and part of their entire lives.

Children's books change lives.
But hey, I'm a realist too and fully realize the unforgettable feeling kids get when they receive "the gift"; the one they've dreamt and hoped and longed for over many months. Even Broadway has a musical version of the movie, "The Christmas Story", the truest portrayal of that feeling. It's the 1950's mid-West set piece of the indomitable Ralphie, whose fondest wish for Christmas is a Red Ryder BB gun, and who is undeterred by parental roadblocks of "You'll shoot your eye out."
But I think it doesn't have to be "either or" with books and toys, but "and". Maybe some classic picture books tucked in the mix along with some newly discovered classics are the right balance.
Christmas is all about giving. Both St Nicholas and Santa, both noted givers, are only symbols of what we really hope our enjoy children this Christmas – the intangibles of a spirit of love, joy and a selfless spirit.
Please create a memory and tradition of the heart this Christmas for a child with one book or a trove of timeless classics. Years from now, book in hand, they may just be thumbing through a memory.
To help you get started I've selected some classic and new Christmas books I've found that are beautiful and acknowledge the secular and religious balance to Christmas that parents struggle with each year. They are books that celebrate both the holyday and holiday traditions of the Christmas spirit, and they will be highlighted here over the next two weeks.  Enjoy!