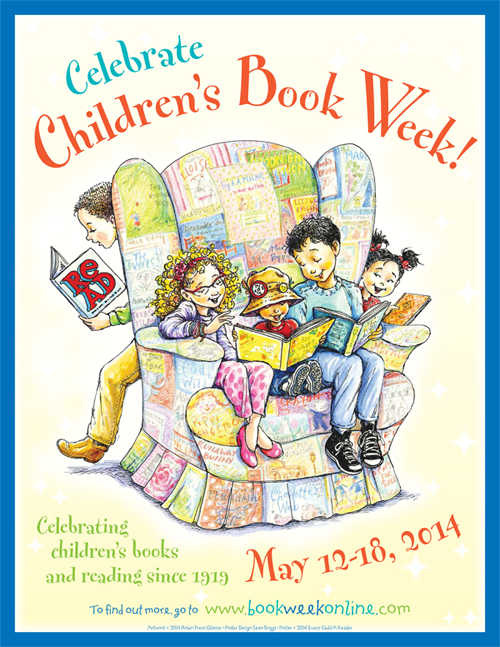 It's a Great Time of Year to Be a Reader!
Celebrate Children's Book Week – May 12- May 18, 2014
Calling all readers!! It's the 95th annual celebration of Children's Book Week and 95 years of anything today is pretty impressive where the shelf life of most things has an expiration date; but not so with books. They go on forever as long as there are young readers with imaginations that fuels the desire for the longevity of children's books, and these young readers ARE out there, trust me.
Children's Book Week is the longest running national literacy initiative in the country. I think part of the reason for its popularity is that young readers of all ages get to vote for THEIR favorites. The voting started on March 25 and ends May 12.
For a list of the booksand their age categories, I have provided alink to the books in the running. One of my particular favorites is in contention in the young children's category this year. It's called "The Day the Crayons Quit" by Oliver Jeffers and it is both humorous AND human if you stop to think that a box of individual crayons have FEELINGS just like you and me! Some of them are just plain tired of being sort of "type cast"; that is used for only certain holidays. Take the red crayon. Even I would get tired of coloring Santa suits and Valentine's Day cards. Others, such as beige are tired of not being more VIBRANT and well, the crayon pink challenges the male contingent to use the color more liberally. It's not just a "girly" color, for heaven's sake. And black is weary of being used as an outline. Each makes its plea in a perfectly logically worded letter posted on plain paper tied with string and put atop the child's crayon box! They want their users to try thinking outside the box as far as color goes!
Maybe we will be seeing more inventive use of color from the reading of this wonderful picture book!
Both Oliver Jeffers for "The Day the Crayons Quit" and Anna Dewdney for Llama Llama and the Bully Goat are named as nominees as Best Illustrators of the Year in the Children's Book Week voting. Robin Preiss Glasser is the designer of the Children's Book Week poster this year and the Children's Choice Illustrator of the Year in 2013 for her illustrations in Fancy Nancy and the Mermaid Ballet.
Please visit the site for Children's Book Week and take a look at the books in contention in each age category. Maybe some of YOUR favorites are there, and even if not, there's a listing of great books just waiting to be discovered by your young reader for summer reading and NOW!
For more information on the events, go to www.bookweekonline.com. Happy Children's Book Week from The Snuggery!