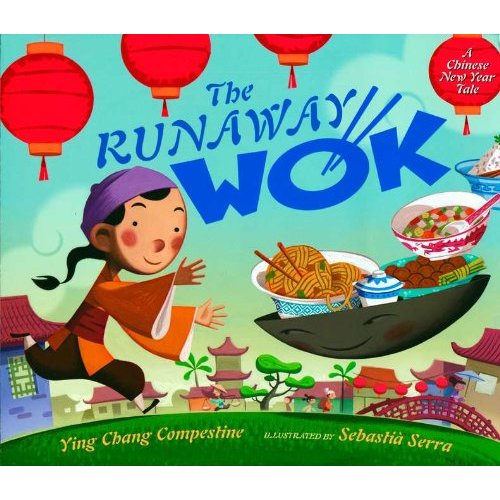 Celebrate Chinese New Year!
The Runaway Wok: A Chinese New Year Tale
By Ying Chang Compestine; illustrations by Sebastia Serra
This past weekend a friend reminded me that January 22rnd is the beginning of the fifteen-day festival celebrating the Chinese New Year. Last year was the Year of the Tiger that promised to be a bit more, shall we say, exciting and less predictable than this incoming Year of the Rabbit which is thought to have an overall calm sensibility about it.
In Shanghai, China greeted the eve of the celebration of the New Year with a shower of spectacular fireworks thought to drive away evil spirits amid the cold temperatures there.
But whether for parents of children of Chinese heritage, but also more importantly for schools and parents wishing to afford their children a window into an ancient and honored culture in a world which gets smaller everyday, cross cultural understanding is increasingly important. This title, as well as Dragon Dance which will be reviewed in a future blog post, are certainly informative, entertaining and deserving of a look see as a starting point.
The Runaway Wok is geared for an older 6-8 reader and tells the story of a boy from a poor family sent to market to buy food and comes home with an old wok!  It's sort of like Jack and the Beanstalk who trades his mom's cow for a hill of beans. You can imagine the general reaction. Like Jack's mother, his parents also are concerned with practicalities. The conversation probably sounded something akin to, "That's a great old wok, but what do we eat?"
The wok does a sort of spritely roll out the door a la The Gingerbread Man and what happens next is a lesson in the importance of the generous spirit.
Growing up in China, Ms. Compestine is the author of cookbooks for adults and children's books highlighting Chinese culture and food.