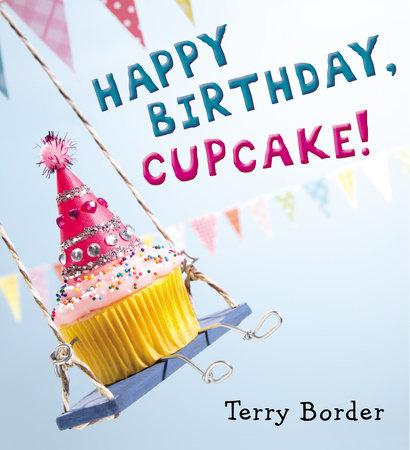 Celebrate the Cupcake Craze!
Happy Birthday, Cupcake!
By Terry Border
Cupcakes have become a front and center stand alone confection, featured in bakeries, and seen for some time as alternative choices to the signature sheet or tiered cake, seen at birthday parties, weddings, and other festive occasions.
Maybe your family has even latched onto reality shows such as Cake Boss, or better still, one a little more in keeping with the subject matter of this particular picture book.
It's a reality show called DC Cupcake, premiering in 2010, and based on a sister "cupcakery" business called "Georgetown Cupcake", started by sisters, Katherine Kallinis and Sophie La Montagne in 2008.
Their sweet smell of success was fueled by some 5,000 cupcake sales per day, and saw the sisters segue way from careers in finance and fashion to…..cupcakes.
So, Terry Border's picture book called Happy Birthday, Cupcake!, is quite timely in catching onto the current cupcake craze. And it has some running sight gags alongside fun photos of the "what if" party plans of Cupcake, as possible birthday party options for guests are imagined and their ensuing scenarios are thought of, then discarded, as reality rears its head. Cupcake has imagined as one alternative, plans for a  beach party. That idea has failure pictured all over it, what with warm icing dripping from Cupcake's invited cones, donuts and chocolate bar guests! Guest makeovers as a party plan? Uh….not when one of the possibly iced and sprinkled with a cherry on top guest-to-be is called… Hamburger. Not a pretty sight. Though to be honest, can't you just hear kids saying to the reader, "Hey, that looks great! Can we try it?
The icing's on the other foot, so to speak, as this sweet-toothed sweetie ponders possible birthday-themed entertainments and settings fit for a very varied food-based group of invitees.
The photos that follow are by turns, tongue- in-cheek, narratively full of puns, and visually made to provoke laughter in both parent and child. And sometimes, they are even a bit endearing, in party giver Cupcake's concern for each guest's level of comfort and enjoyment.
The  birthday guests, you see, are a varied lot, encompassing literally peanuts to waffles,  corn cobs to potatoes, muffins to eclairs, hamburgers to alphabet soup, and a slice of jellied toast thrown in to round out this possibly party bound food group.
Cupcake quickly intuits, via funny photo party enactments, that one shoe…er setting or condiment, that sounds like fun, in reality, does not fit ALL invited guests, and does, in fact, cause them to, well…. drip!
Sometimes, over planning can get in the way of just plain being with friends, as Cupcake and young readers soon learn.
What's really needed is to forget the planning, and let loose with a few limbo moves, letting the squished and melting  drips fall where they may!
A perfect party, even when it involves a host that is a Cupcake, is not always a guaranteed sweet deal, but its trial and error execution, is sure to provoke a few pun laden laughs from readers and listeners.
I think my favorite Cupcake possible party scenario includes a group called "The Musical Fruit"  As Cupcake entertains the idea of this trio possibly playing background music for a favorite game at birthday parties; namely "musical chairs," readers may laugh at the imagined outcomes!
Well, Cupcake comes thisclose to booking the group; literally named Baked, Kidney and Black beans, on sax, trombone, and euphonium. It's a hoot.
Happy Birthday, Cupcake! is a picture book of one confectionary Cupcake going all out for the comfort of food-related guests, and trying to guarantee in the process, the ultimate birthday party.
Any parent who has ever planned a birthday themed party will enjoy this book, probably as much as the kids.
Trust me; this is no half-baked story, but one that will make you and your young reader feel like something fresh from the oven…. and preferably a cupcake.
Guess "Pin the Tail on the Donkey" would never do.