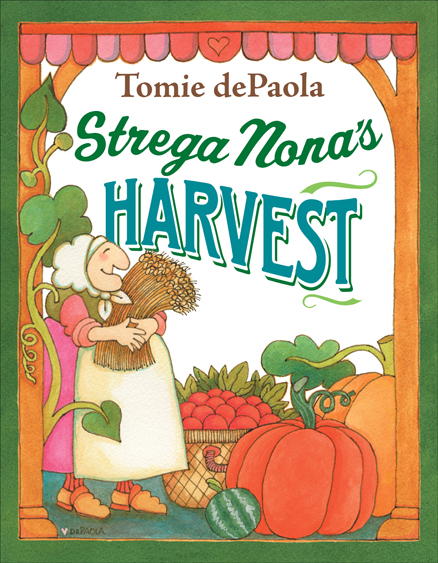 Celebrate With Me the Life of Famed Picture Book Author, Tomie dePaola, on Today, His Birthday, September 15th. It's Harvest Time with His Beloved Strega Nona!
Strega Nona's Harvest by Tomie dePaola
Anyone may know my regard for picture book author, Tomie dePaola, who passed on March 30th. of this year. I suppose I have always had a soft spot in my maternal heart for both him, and the equally maternal creation of his imagination – Strega Nona aka Grandma Witch.
I want to celebrate Tomie on his birthday, today, with one of his books and the time that he visited my daughters' grammar school, shortly after the publication of this book.
We were able to get the back list of many of his books for the autographing session that followed his talk in the auditorium to classes K-8. Tomie held them in thrall for over an hour as he talked, as only he could, about his heritage, reading, books and life.
He was so happy when we rolled out a sheet cake with an exact duplication of the cover of "Strega Nona's Harvest" and Tomie cut the cake, passing out pieces for close to 200 kids and their teachers, to share and enjoy.
Then he autographed his books for some two and a half hours as young readers hugged him and parents beamed.
We then took him to a wonderful Italian restaurant for lunch where he sat with us and we drank in the Tomie touch of conversation through the meal.
It was the last time we were together and I cherish the moments.
Tomie loved life and literature. He was curious about everything and used all of what he saw, absorbing and infusing it all into his books; with tales of his own life, his Italian and Irish heritage, myths, legends, saints, miracles, parables and so much more, as he enlightened, entertained and enchanted generations of children, including my own.
I love Tomie. He was talented and a force of nature, embracing life and people with both arms in a wholehearted hug. I miss him.
He was a bit like his famous character creation, Strega Nona; wise, wonderful, and witty, with an understanding of the less talented and bumbling among us, so wonderfully represented by Big Anthony, Strega's Nona's well-intentioned, but trouble-ridden helper. 
Dispenser of advice on everything from wart cures to love potions, Strega Nona and her adventures, starting with her famous pasta pot, with aid provided by her helper, the well-intentioned, but bumbling Big Anthony, kept my now-grown daughters in thrall for years.
In Strega Nona's Harvest, the kindly Nona is busy with her stalwart helpers, Big Anthony of course (who doesn't pay attention), and the always eagerly helpful Bambolona. They are her assistants and students at the start of the planting season.
The book, along with Tomie's usually delightful narrative adventure of his multitalented Italian witch, is interwoven with interesting hints and tidbits for the youngest of gardeners. For instance, seeds are to be planted, according to Strega Nona, when the moon is right as she consults her libro de giardino – Garden Book. Neatly written down are the names of plants from the year before, and when and where they were planted. "We have to move them around so the soil will stay happy and strong." This is one Nona who knows a thing or two about crop rotation.
Kids will gain a lesson in Italian vegetable translations as she plants her giardino:
zucca – squash or pumpkins
fagliolo – peas
cavolo – cabbage
melone – melon
pomodoro – tomato
melanzane – egg plant
carciofo – artichoke
Strega Nona, true to her heritage, has an ingrediente segreto, secret ingredient, dispensed along with the planting of seeds by the light of the moon. She sings a song as she did to her famous or infamous pasta pot:
O Bella Luna, smile on me,

And on the seeds I sew,

And let the moonbeams shine from thee,

To make my garden grow
Followed by the blowing of the three kisses to the moon, Strega Nona's season of growth is assured.
Assured also, is the inevitability that Big Anthony observing her closely by stealth, will blow not three, but six kisses to guarantee his garden will teach the bossy Bambolona a thing or two about gardening.
Mamma mia! Can disaster be far behind? Will bounty turn into bedlam? Will Strega Nona in her generosity and wisdom find a way to spread the overflow so all in need may share? You bet your melanzane she will!
Tomie had again written a tale with harvest themes that hums along with the special dePaola blending of story and art that have kept picture book enthusiasts happy for decades.
And so, on your birthday, Tomie, we are assured you STILL, in mind and heart, are with us through your enormous legacy of literature and love..
Buon Compleanno! Happy Birthday, and all our love to you!