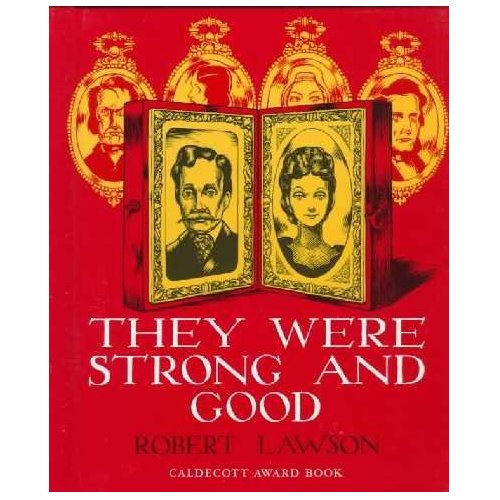 One's Family Roots Are an Important Topic of Conversation for Young Readers. This Essential Classic Picture Book is a Great Way to Begin Conversations About it.
They Were Strong and Good
By Robert Lawson
Have your children ever asked questions or begged for stories about your mom and dad? It's a very common theme and topic that runs through many families. Where did our family come from? Who were these people? What kind of lives did they leave and do I resemble them in any way?
Genealogy, research of family trees and ancestry in general has had an amazing resurgence of interest in recent years. Technology offers previously unknown peeks into such places as ship's manifests, US Census logs and many other web sites, which offer information on the past of our forebearers.
The Caldecott Award he won in 1941 for They Were Strong and Good and the Newbery Medal for Rabbit Hill in 1944.
Of course, he also partnered with his friend, Munro Leaf, for "The Story of Ferdinand," which is a classic in and of itself. In that book, Robert Lawson's black and white drawings added immeasurably to Mr. Leaf's narrative of the peaceable bull and his beloved cork tree.
Here, in They Were Strong and Good, Mr. Lawson uses his own family as a microcosm of a nation, with its ability to adapt, grow and contribute to the social fabric of a nation. He traces the lives of his grandparents; one a Scotch sea captain and his travels aboard the Eliza Jane Hopper as it fights Caribbean storms, visits wharf markets in New York and even fights in the Civil War.
One storm aboard ship left his grandfather on deck for two days and two nights before reaching New York. Lawson's grandmother was a Dutch girl living on a farm where the city of Patterson, New Jersey now stands. One day on a trip to the New York Harbor to sell things to the ships, fate brought the sea captain and the farm girl together.
Lawson traces down the generations to his mother who was a small girl in Minnesota sent to a convent for schooling where she learned French, Spanish and German. She loved embroidery and playing the organ.
His father's father was an Englishman from Alabama, who, with a land grant, rode from town to town as a fiery preacher. Need I go on? You get the picture and the shape of this most interesting family tree. These were simple people and as Lawson says,
None of them were great or famous, but they were strong and good.
They worked hard and had many children. They all helped to make the United States the great nation that it now is. Let us be proud of them and guard well the heritage they have left us.
A friend of mine once told me, " We stand on the shoulders of the people who came before us." Each generation enriches the next and leaves its mark and memorials in word and deed, both concrete and invisible. Robert Lawson's book will be, for your children, a rare treat as it catalogues the value of the individual's impact on history and an affirmation of what my mom used to say,
"As the family goes, so goes the nation."
Robert Lawson knew it to be true in 1941 and it's still true in 2020. You and your children may find this book a terrific jumping off spot for a tracing of your own family history. Try and create your own family album of the past and its roots after reading this book with your children.
***************************************
You may have noticed that many of the books I've selected are Caldecott Award winning books. You may or may not know that the Caldecott medal is given yearly to "the most distinguished picture book for children published in the United States beginning with 1937 publications." It is awarded to the illustrator by The Association for Library Service to Children- a division of the American Library Association. The award is named for Randolph Caldecott, who a 19th century English illustrator and here are the criteria for the award:
The book must be published in English in the United States during the preceding year
The illustrations must be original work
The artist must be a citizen or resident of the United States
The book must be considered for the artistic technique employed, pictorial interpretation of story, appropriateness of style of illustration to the story, delineation of plot, theme, characters, setting, mood or information through the pictures and recognition of a child audience
The book must display respect for children's understandings, abilities and appreciations.
The book must be a self-contained entity, not dependent on other media for its enjoyment.
The reason that I so often select Caldecott winners for blog entries or videos is because I feel that these stories have stood the test of time. And time is the great leveler. I feel they have something in their themes that still speak to consecutive generations, even though some of them were written 60-70 years ago. They may have fallen off the radar for many parents or grandparents who remember reading them in their youth and so one of my goals is to bring them front and center again for a new generation of young readers to enjoy.