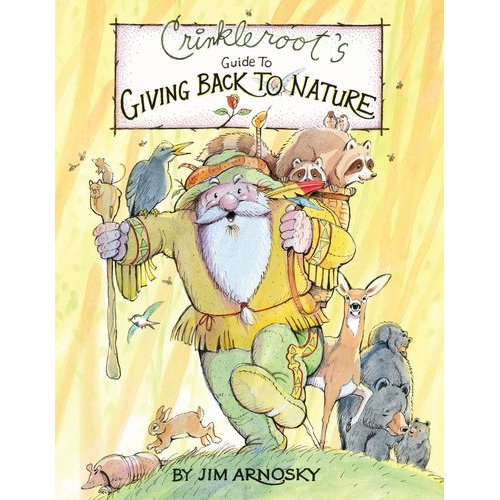 Celebrate Earth Day on Friday!
Crinkleroot's Guide to Giving Back to Nature
by Jim Arnosky
Earth Day is being celebrated on Friday April 22, 2022 this year, and in schools across the country, children are ever more aware, through education programs, of the delicate balance of the interdependent ecosystem that we humans share with plant and animal life on planet Earth. In ways large and small we impact it for good or ill on a daily basis. And these facts are at the heart of this thoughtful and thoroughly delightful Earth Day read by Jim Arnosky.
Jim Arnosky is a self-taught artist and naturalist who has illustrated over 90 nature books for children. His Slow Down for Manatees was included on the Smithsonian's 2010 Notable Books for Children list and the 2011 Science Trade Books For Students K-12 reading List.
Here, in his Crinkleroot's Guide to Giving Back To Nature, Jim reintroduces his young readers to the wise and whiskery Crinkleroot, a character who I think is an offshoot of Johnny Appleseed, Santa, the Roaming Gnome and Robinson Crusoe intertwined. School Library Journal states that Crinkleroot, "has become a reliable old friend and guide to the natural world." The book is packed with activities that children can do alone or with adult supervision.
This book speaks to the heart of the questioning child in all of us, as it asks what most humans do when they perceive a problem and see a need to be filled, namely "What can I do?" and "Will what I do make a difference?" Crinkleroot is definitely here to help you and your child answer those questions:
Do you want to know how to catch and release a fish? Crinkleroot has the technique down and shares it with you.
Want to know how to tell if a seashell still has an animal living inside it? It's all here in great detail.
Crinkleroot even has a guide to composting leaves-simple as spreading them on a lawn.
Want to plant a tree? No problem. Crinkleroot has the technique from young seedling to sprouting tree.
Do you have a desire for butterflies at home or at school? Crinkleroot can give you the solution to attract swarms of them.
Kids will enjoy following Crinkleroot on his winter sojourn in the woods and travel with him as he journeys through the other seasons of the year. The book portrays his respectful interaction with his environment in very practical ways. He gives specific suggestions for kids to use on how to "Give Back to Nature" and on the opposite page, uses illustrations to demonstrate how this can be accomplished. For instance, he notes that trees provide shade and cool the earth, their roots hold soil in place, their leaves produce oxygen for the air we breathe, and their trunks, limbs and branches are a habitat for wildlife. He notes that for every tree that falls because of an ax, weather or age, one should be replaced.
And speaking of trees, Crinkleroot would surely appreciate some corporation's realization of their responsibility to provide replacement for trees lost to the creation of books. Specifically, Penguin Group (USA) has partnered with the Nature Conservancy to PLANT a BILLION TREES showing its commitment to future generations and the environment. Well done!
Jim's artistry is bright and eye-catching with its beautiful renderings of birds, butterflies, fish, frogs and sea creatures from conchs to clams. Crinkleroot's Guide to Giving Back to Nature is the perfect companion book for you and your child to share on how to celebrate planet Earth.
For other Earth Day reads, may I suggest?
Gabby and Grandma Go Green by Monica Wellington
For your youngest of readers:
Te amo, sol. Te amo, luna. I Love You, Sun. I Love You, Moon by Karen Pandell illustrated by Tomie de Paola