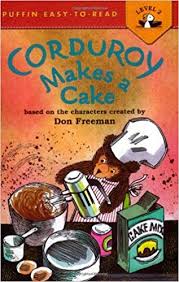 Celebrate National Teddy Bear Day With Some Great Classic Reads for Kids.
Puffin Easy-To-Read Series – Level 2 "Corduroy Makes A Cake";  Story by Alison Inches; illustrations by Allan Eitzen.  Characters created by Don Freeman.
In the continual search for age appropriate and reading level ease in book selection for kids, parents from time to time consult "the experts" as well as their own taste and gut reaction to a book. Listen to a rave for the above Easy-To Read series from Jim Trelease, well-known author on reading and book selection. By the way, his "The Read-Aloud Handbook", if you haven't read it, is a great handy reference guide for parents providing lists of wonderful book suggestions and small snippets on each book.
"Puffin's Easy-to-Read series is a perfect match for the times. These books are easily read by beginning readers, and their reading-level labels make it easy for parents and teachers to match the right book with the right child." 
Jim Trelease
Let's get back to the reason for our celebration on September 9th – National Teddy Bear Day. What better way to honor the cuddly comforter, named for President "Teddy" Roosevelt, than two books written about these furry friends, well known to literally generations of children. The first is the bear called Corduroy; the second, the iconic Edward Bear, known also to millions of little ones as Winnie-the-Pooh.
It's been more than 30 years since Lisa found her beloved Corduroy and, in turn, he and his missing buttoned overalls have found their way into the hearts of many a child – mine included.
Although my girls are grown and gone from home, I still remember the effect of sitting with them as we discovered the story of this small, endearing bear in search of a home. As teddy bears go, he was cute, understanding, loving AND in need of someone to love HIM. Isn't that the general idea of why we need teddy bears?
They seem to have a natural ability to dole out doses of comfort and love on good days, and more importantly, not so good ones. They're also good listeners, something all of us need. They seem to KNOW what we need, and they provide it, in large measures of reassurance and trust. How can we not celebrate that?In this Easy-to-Read series book, it is Lisa, his companion's birthday, so of course the lovable Corduroy is on the job, creating the one essential to any birthday party – a cake! His earnest, enthusiastic endeavors fall a bit short in the execution department, but his spur-of-the-moment accidental solution is sweet and just right.
A fairly competent beginning reader can easily handle this book with its short sentences and simple dialogue. To hear this book read TO you, by your own child, is a great way to celebrate Teddy Bear Day. Corduroy would definitely approve – and even listen along!
"Winnie-the Pooh" by A. A. Milne; decorations by Ernest H. Shepard
Even the word "decorations" substituted for the term "illustrator" on the book jacket of "Winnie-the Pooh" proclaims to the reader, welcome friend, you are in the vicinity of The Hundred Acre Wood, home to a literary legend.
It seems more than appropriate as Teddy Bear Day nears on June 24th , that we honor one Edward Bear, known to his intimates as Winnie-the-Pooh.
Eighty-five years have passed and generations of children have been introduced to A. A. Milne's son's alter ego, Christopher Robin and a simple, unsophisticated bear, held by a paw and bumped down steps.  I wanted to read in 2011, with a fresh eye, the tale of Winnie-the-Pooh, creation of a poet and storyteller, who inspired by his son, Christopher Robin and the real toys owned by his son, grabbed the imaginations of generations of readers – young and not so young. The book more than holds up its classic reputation.
Walt Disney, always with an eye to adaptation of classic children's books such as "The Swiss Family Robinson", "Treasure Island", "Pollyanna", "Mary Poppins" and others, brought Winnie to further fame when he made the book into an animated film, using the amazing voice of the beloved character actor, Sterling Holloway as the voice of the "silly old bear." That soft, achingly endearing voice is the only one I hear in the imaginative world of Milne. For the uninitiated, Holloway was also the voice of the snake, Kaa in Disney's animated version of Kipling's, "The Jungle Book."
I digress. It is a well-known fact that bears love honey. Winnie, in one endearing stab at deception, in "Winnie-the-Pooh", uses a stringed balloon to fly high above the trees, posing as a cloud, in a failed effort to fool the Queen Bee!
"But his arms were so stiff from holding on to the string of the balloon all the time that they   stayed up straight in the air for more than a week, and whenever a fly came by and settled on his nose he had to blow it off. And I think – but I am not sure – that that  is why he was always called Pooh."
Christopher Robin winds up shooting the balloon disguised cloud/bear with his popgun to bring it back to earth. BACK TO EARTH.  The phrase is a reminder to me of what Winnie is all about.
He is a sort of a metaphor for childhood itself. He is both teacher and companion to Christopher Robin. Pooh, in his bumblings, is literally showing Christopher Robin how to navigate childhood! Pooh doesn't quite get IT, that is, how things work in the world, as all children eventually need to learn. Kids try, sometimes fumble, and eventually navigate. Winnie is a sort of go between for the world of experience, Christopher Robin needs, in order to grow.
The adventures intimate to children, via Christopher Robin and his bear, an important subliminal message. "Hey, if Winnie is silly, not so with it, yet struggles to continue to find his way, maybe I'M on the right track too!"
If example is the strongest teacher, then Christopher Robin's observations and interplay with Winnie, with his coterie of Rabbit, Piglet, Eeyore, Owl, Kanga, Roo, and the newest pearl-bedecked character, Lottie the Otter, are sure to guarantee your child a series of enjoyable voyages on the journey to adulthood. Thank heavens on National Teddy Bear Day for this "silly old bear."  Long live Winnie-the-Pooh!
Maybe your child has seen Walt Disney's animated versions of Winnie.  Though wonderful additions to the real thing, maybe you haven't yet ventured into this literary treasure and its companion volume series with your little ones. PLEASE do. Classic literary treasures such as these are not to be missed. Even if you have, it's worth a second trip revisiting Winnie et al. He's actually worth a second and even third look!
On a previous blog, I mentioned Penguin's donation of the original Milne characters, on display in the Children's Room of the New York Public Library at 42nd Street. It's a wonderful outing for a summer day. Why not take your kids for a walk in The Hundred Acre Woods to see Christopher Robin's original literary playmates in the fur, or flesh.