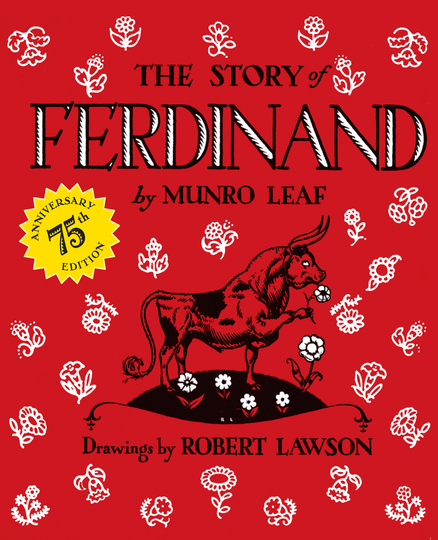 Celebrating 75 Years of Ferdinand the Bull
"The Story of Ferdinand" by Munro Leaf; Drawings by Robert Lawson
Listen to this quote by Munro Leaf explaining the reason this generational favorite story of the peaceable bull, Ferdinand, came into being.
"I wrote Ferdinand….in the hope it would amuse [Robert Lawson] enough to create pictures that would provoke a quiet laugh…..Now I believe in laughter. There is no better passport through the world than a smile and a laugh."
What a quote for children to take to heart as a dose of a common sense to this topsy-turvy, frenetic paced and at times, grim world with which they are constantly bombarded!
Viking Children's Books celebrates this 75 year-old young-at-heart bull whose story has captured the imaginations of children in 60 countries. Its author, before his death, traveled with his wife at the behest of the U.S. State Department, giving talks to children, educators and librarian. There is much to celebrate at the anniversary of this enduring classic that plays against type.
First of all, I wish I had a friend such as author/illustrator Robert Lawson to amuse. He himself was no small shakes in the area of children's literature. Mr. Lawson is the only person ever to receive both the Caldecott and Newbery Medals for "They Were Strong and Good" and "Rabbit Hill", respectively. What a coup! Not to detract from the writing talent of today, but 1940 and 1944 were banner years for Mr. Lawson.
The friendship of these two extraordinarily talented children's writers, their unique gifts, separate and together, combined in "The Story of Ferdinand" to achieve literary magic in a bottle.
This story of a flower smelling bull that would rather inhale the flowery aromas under his beloved cork tree than fight, attracted even the attention of the famous Walt Disney. In 1938, he made a short animated film of Mr. Leaf's iconic paean to the individual and it won an Academy Award for Best Short Subject (Cartoon)! Walt certainly knew a good thing when he read it. Narratively and visually, it is a wonderful piece of classic children's literature that transfers perfectly to the screen. The story first and foremost entertains. But within the entertainment is the powerful, yet gentle message this young bull conveys with his unerring certainty of choice and self-knowledge.
Listen to your heart.

Don't allow yourself to be defined by what others think.

Be yourself.
Ferdinand's own mother initially wonders aloud if he is happy with his choice to sit peacefully and "smell the flowers" as his counterparts butt heads, leaping and snorting in an effort to impress the selectors for the famous bull flights in Madrid.
Fate and an unhappy bumblebee play a laughable part in the judges' choice. Will it be Ferdinand? Will he fight, flee or just be?
The answer has charmed generations of parents and children who have identified with this peaceable bull.
"The Story of Ferdinand" continues to speak to the popular culture today in a recent movie called "The Blind Side" with actress Sandra Bullock in a lead role. It is the true story, with Hollywood embellishments, of Michael Oher, "Big Mike" as he is called.  He is befriended by a wealthy, no nonsense mother of two, Leigh Anne Tuohy, who discovers Michael is gentle, huge, lacking in education and homeless. Using his unusually high testing score in "protective instincts" as a guide, the supportive family unit takes him in and with their drive and academic support system, catapult him to eventual All American status at Ole Miss and a first round NFL draft pick with the Baltimore Ravens! Unrealistic? Maybe.
Early on in the movie, Leigh Anne's young son, S.J., rediscovers "The Story of Ferdinand" in a bookstore. She rereads it to her children one night. Michael hangs on her every word, seeing himself in this powerhouse of a bull who at heart is a gentle soul. Whether this scene was cinematic license or a true reenactment, a point is made. Young people make a powerful identification and connection with the books they read or, in this case, those read to them.
If you've not read this charming classic, and even if you have, this 73 page hard cover 75th anniversary edition for ages 3 and up is worth a revisit to the quiet fields of Spain and not so quiet ones of the bull ring in Madrid.
I reread it on a hot day filled with a summer languor, reminding me of a day that might have inspired Munro Leaf's imaginings of the bull named Ferdinand and filled with Robert Lawson's perfectly rendered drawings of Munro Leaf's tale.
Find a cork tree if you can. Any shady tree will do. Take a copy and a child by the hand. Open this classic book and let its continuing magic unfold for you both. Watch out for stray bumblebees!