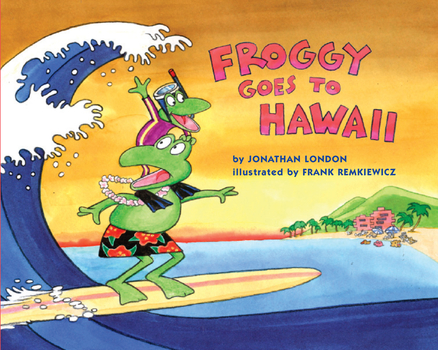 Summer Reading Picks for Kids, Part 3
Froggy Goes to Hawaii By Jonathan London; illustrations by Frank Remkiewicz
Froggy, for those of the uninitiated, is a cute, green amphibian creature, appearing in more than 20 previous "Froggy" adventures. Some of these may or may not be familiar to you.  The more recent titles of this "magnet for trouble" include "Froggy's Best Babysitter", "Froggy Gets Dressed," and "Froggy's Baby Sister."
Mr. London's books provide fertile fodder for any number of recognizable situations in which a young child or frog may find himself.
Here, aloha is the order of the day as Froggy and family go on the perfect family vacation to almost every ones dream island – Hawaii. Right.
Froggy, like most kids, has plans all mapped out, but the best laid plans of frogs and men tend to go awry!  Whether it's causing a coconut to conk him on the noggin as he does battle, ninja style, with a tree; or nearly going over a waterfall in his zeal to dive into a nice cool stream as it wends its way over and down; or being rescued from a lava laden volcano, Froggy's infectious enthusiasm to experience life head on, keeps his ever-vigilant parents on a caution watch. They continually nip near-disasters in the bud. How many of you parents have watched your offspring at places like, oh say for instance, the Grand Canyon, rush headlong to the edge of a precipice to get a gander at the view, as you fling yourself frantically, one step ahead of disaster? When you think about it, it's sort of a metaphor for parenthood. You want your child, or in this case frog, to joyfully embrace life's experiences, but it IS still a looong way down at the Grand Canyon! Froggy, take care as your loving, but harried parents develop early gray—er, green hair in Hawaii!
Parental alerts to imminent dangers are met with the inevitable response of Froggy's repeated, WHA-A-A-T? Sound familiar to any of you out there?
As our young amphibian snorkels in dolphin underwear because of a forgotten unimportant detail like a BATHING SUIT, a parental memory or two may be jogged out there along with a suppressed smile of recognition.
Parents, enjoy this read with your own children this summer on a plane perhaps, thinking as you do, "At least my child never did THAT." Wait… summer is young, my innocent friends!