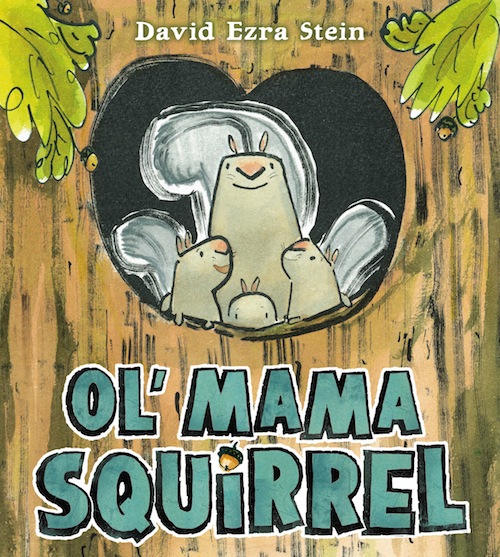 Ol' Mama Squirrel
By David Ezra Stein
Ever since Beatrix Potter introduced a saucy red squirrel to young readers in 1903 named Squirrel Nutkin, they've provided an endless source of fascination for kids – and adults. It's the time for seeing these bushy-tailed rodents palming nuts as they seek out winter storage units for their cold weather provisions.
What better time for a cuddle up as the weather turns colder than a sit down with the picture book "Ol' Mama Squirrel" in one hand and a young reader in the other!
David Ezra Stein, winner of a Caldecott Honor for his "Interrupting Chicken" and "Leaves" that made the "Publishers Weekly Best Book of the Year", Kirkus Reviews Editor's Choice and a School Library Journal Best Book, now has provided a window in his new book, on the protective maternal instincts of a certain mama squirrel. This is one mama you do not want to rile!
Incidentally, I've always wondered how to replicate in English that sound, akin to a trill, that squirrels make.  Mr. Stein's translation is well, a sort of "chook, chook, chook" in squirrel speak. And it can mean a variety of things, all having to do with mama's protective mechanism that automatically kicks in when danger lurks and threatens her babes!
In "Ol' Mama Squirrel" the sound erupts frequently from a variety of sources such as the approach of cats, owls, dogs, kites, planes and even friendly town tree pruners. All are dispatched with a loud and scolding CHOOK CHOOK CHOOK and, as Mama Squirrel often repeats after every encounter, "And that takes care of that." Predator all gone now!  But wait! What about the BEAR? Here is one bruin that one flimsy CHOOK CHOOK CHOOK is not going to deter. He is determined, but so is Ol' Mama Squirrel
Young readers will delight in the realization that CHOOK CHOOK  CHOOK is also an alarm that can be sounded for reinforcements who can quickly descend en masse. I was laughing as the formerly confrontational bear flees pell mell under a "take that" hail of nuts and I'm not talking about the squirrels. Even the previously dispatched dog insists they put "crazy powder in the nuts around here."
"Ol' Mama Squirrel" is a yes vote for maternal instincts of all creatures when it comes to their children and as a wise Mama Squirrel often repeats, "And that takes care of that." But just to be sure I'm very respectful of the squirrels.