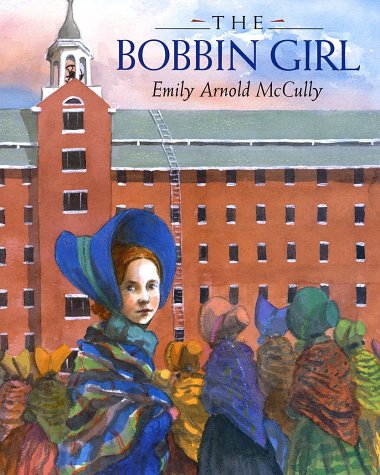 Courage, Tenacity and Self-Reliance
The Bobbin Girl
By Emily Arnold McCully
Winner of the Caldecott Medal for Mirette on the High Wire, Ms. McCully here turns her hand to a wonderful tale based on the inspiring memoirs of a real Lowell, Massachusetts mill worker of the 1830's, one Harriet Hanson Robinson.
Themes of women appearing in the work force as wage earners and the power derived from workers banding together to empower themselves, provides a window into an era in our country's history when such things were hard fought for and hard won.
We meet Harriet's fictionalized counterpart Rebecca, at ten years of age in the opening pages of the book, a child too small to hoist herself to sign her name at the paymaster's ledger for her wages. But sign she does as Rebecca Putney, Bobbin Girl in the City of Spindles as Lowell is termed.
In Rebecca, we also see the early stirrings of one Crystal Lee Sutton of Roanoke Rapids, North Carolina. She was the real life persona on which the "Norma Rae" movie character and cotton mill union organizer was based.
You may remember the famous scene in the movie in which Norma defiantly stands on a table showing a cardboard placard with the word UNION printed on it, as she slowly turns and one by one the workers defiantly shut down their machines in protest over working conditions. This actually occurred in the life of Ms. Sutton.
In The Bobbin Girl, Child Labor Laws were non-existent, so imagine Rebecca rising with the roosters at 4:30 a.m. to the the clang of the mill's bell tower, in order to commence work at 5:30 a.m.! Tardiness or mistakes were rewarded with dismissal, as there seemed to be many eager hands to take an empty spot. Row after row of looms and spindles in the factory commenced a din of deafening proportion. Mill girls came to their tasks for a variety of reasons – sending tuition to a brother so he can attend Harvard, helping the family pay off the mortgage on the farm and even earning the money for a dowry!
This book is a perfect example of the reason for picture books to thrive and continue to be placed in the hands of young children. The Bobbin Girl as all good picture books provides a narrative including important themes necessary in the learning curve of childhood, such as courage, tenacity and friendship. Picture books couple this with an artist's imaginings of a scene, whether fictional, or in this case real, and they also drive the narrative with great vocabulary.
I especially love the use of a phrase called "Lowell Fever". Mill girls were intent on improving their minds! Though forbidden to read inside the mill, girls taped printed sheets and even math to their loom and even windows in order to study while they worked.
Judith, who is Rebecca's idol, dreams of attending an academy for the education of women. Half of the $1.75 she earns per week goes towards her goal of a better life for herself.
Events of illness among the workers and the indifference of Mr. Capshaw, the overseer at the mill begin to resonate with Rebecca as she begins to form her own judgments about the situation at the mill. In this quote we can hear a conscience forming and a character taking shape by degrees as she hears the famous Emerson lecture.
"I was speaking with Mr. Emerson after the lecture. Oh, he is

inspiring! His topic was Self-Reliance. He says that most people

think good means following the crowd. But true goodness lies

in the courage of self-reliance. I feel so fortunate to have heard

him."
An accident injuring a young worker who is summarily fired because of supposed "carelessness", coupled with the lowering of wages by 15%, brings a petition to the fore. Are the young workers powerless or can they effect change?  Will Rebecca, amid the cries of "Don't" from co-workers heed their cry or remember Emerson's lecture on Self-Reliance?
In "Author's Note", Ms. McCully speaks of the memoirs of mill girl, Harriet Hanson Robinson and her memoir, "Loom and Spindle; Life among the Early Mill Girls." This memoir, rich in detail was used as a background for the book. This book is a treatment of the first workers' strike, although Harriet actually took part in the next one.
Actions or lack thereof have consequences and the choices of a lifetime are the builders of character and a value system one lives by.
The Bobbin Girl is a template for young readers' who sooner or later will be faced with decisions of greater or lesser import than the fictional Rebecca and Judith. But then as now, everything starts with the small stuff and builds from there. As Emerson said, Self-Reliance is not a bad place to start.