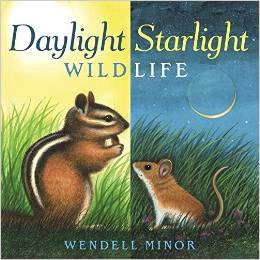 Daylight Starlight Wildlife
By Wendell Minor
Wendell Minor's "How Big Could Your Pumpkin Grow?" and "My Farm Friends" are read-alouds that infuse fun facts about the world of nature via giant pumpkins or farm friendly nature nesters, for your young readers to get to know.
Farm living, for us, definitely has us in touch with the pulse and pace of life, and the seen and unseen wildlife that make their home both in and on the farm; invited or not!
So, I had a jump of recognition to many of these wildlife day/night visitors in Mr. Minor's lifelike paintings. I've seen them, but they are still there whether seen or unseen.
And now, in "Daylight Starlight Wildlife," he provides, through magnificently detailed paintings, a glimpse for your young reader of red-tailed hawks flying, ( we have one on our farm named Hannibal), and a conglomerate of other day and nighttime animals juxtaposed on opposing pages, surrounding us in both sun filled skies and sunless nights.
Sunny visitors may include butterflies, turtles, rabbits, wild turkeys, squirrels and woodchucks.
Red foxes, (ours is named Fred), skunks, flying squirrels, warty toads, opossums, ground hogs, (ours is called Geoffrey), coyotes, and brown eyed barred owls prowl sometimes unseen, in their nighttime environs.
I have often wanted to go up to the farm at dusk and have a chat with the nighttime denizens.
Young readers can pore over the delightful, and realistic, sunlight and starlight visitors surrounding backyards, forests and glades.
"If you truly love nature, you

will find beauty everywhere."

Vincent van Gogh
At the back of the book are a series of "Fun Facts" about each animal detailing when they are active, and a small nugget of interesting facts.
For instance, Cottontail rabbits can get up to 18 miles an hour when chased by predators, woodchucks can eat one whole pound of veggies in a sitting, turtles can live up to 80 years and chipmunks can pack in food to those cheeky pouches; some three times bigger than the size of their heads!
Gaining a positive respect and perspective on the wildlife that surrounds us, has been Mr. Minor's mission through his picture books.
And with his latest, his young readers, book in hand, are in for fun filled explorations on upcoming summer days and nights!