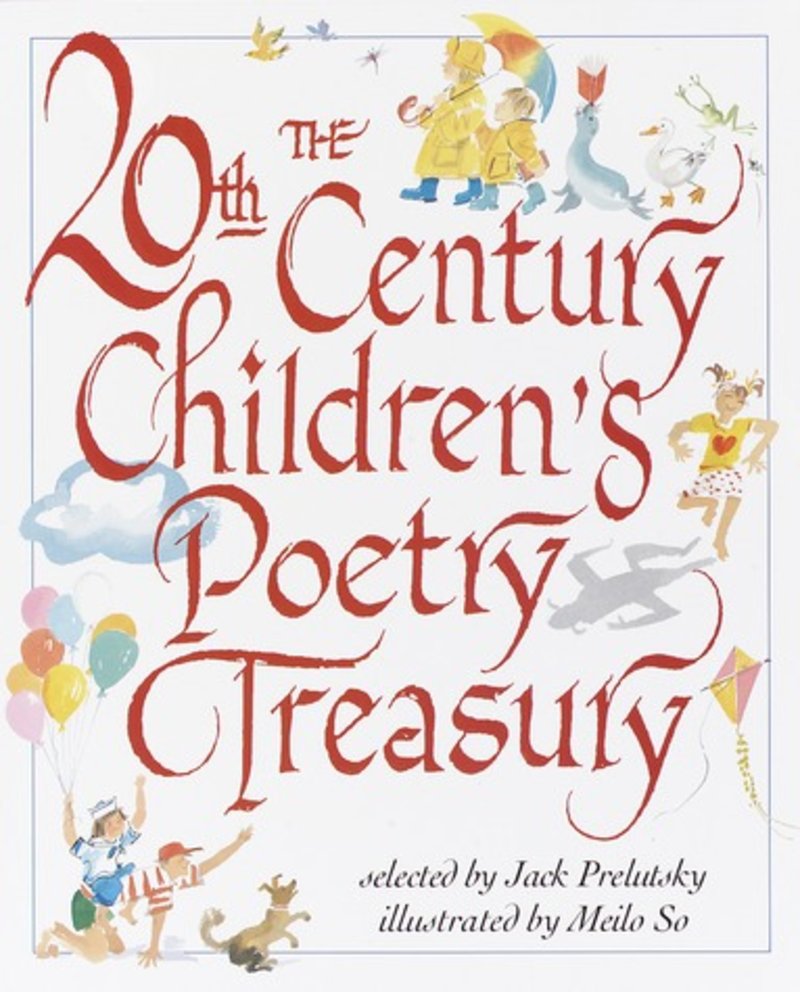 Find the Universal in Life in the Particulars of Poems Picked By Jack Prelutsky in "The 20th Century Children's Poetry Treasury"
Poetry, in the 21st century child's world, may not have found its proper spot…and just maybe it should be an important one. Perhaps, that's because poetry has gotten a bad reputation of being fussy, outdated and overblown for the modern child. But, in finding a picture book recently, called "The 20th Century Children's Poetry Treasury," I rediscovered old poetic friends and found some new ones.
In tandem with this discovery, I met a poet in our town who shared with me a small compilation of his poetry. A PhD professor who taught English Literature at several universities across the country, this professor/poet and his poems, awakened a sleeping sense of the poetic in all of life. And it revved up a dormant sense of the poetic within me, and a renewed desire to see it percolate in small ones as well.
During National Poetry Month, this April, both this picture book and poet friend, put me in mind of the wealth of poetry we need to share with our young readers from their earliest years. Think Mother Goose and her classic cast of rhyming characters, to the continuing canon of poets classic and new; from Sandberg to Silverstein, from Nash to Milne, Lobel to de la Mare, St. Vincent Millay to Hoban and, well, you get the picture… er… poets.
Each poem in this beautifully rendered and handsome picture book was selected by poet, Jack Prelutsky. These are poems for today's child. Truly, childhood's outer look may change, but somehow those parts of the inner child remains constant. And it's that constancy that poetry speaks to, while calling up the ever-changing moods of childhood, and finding that very universal something in the particulars of a poem that speaks to them.
Topics abound in the above mentioned picture book. Here are but a few; seasons, elevators, hippos, trees, flags, bats, hedgehogs, homework, farmers, flags and the list includes 211 poems from every decade of the 20th century from 137 poets. It's a glorious glut of the poetic, illustrated with palettes of alternating bright and soft watercolor pictures to suit each one.
Meilo So's artistic realization of each poem has done this in a beautifully winning read to be shared and savored one rich poem at a time. This is a definite read aloud to be enjoyed, delighting both parent and child alike.
And speaking of poets, here are two favorites of mine. One is a poem from my professor/poet friend, and the other, well, you'll recognize his name from the memory bank of your mind:
May Day
Get up! Get Up! For shame! Don't lie a bed.
Earth's been up for hours and sent its green
Through every leaf and made all roses red.
Get up and join old Parson Herrick's scene.
Every moment must be answered for,
And joys must all at last be paid
When we stand before St. Peter's door,
Waiting for our souls to be weighed.
How heavy – if we'd missed the first of May!
If in our blood there rushed no thrill of Spring
Nor any urge to dance and through flowers and play
At being madly in love with everything.
If, thus, with sluggish hearts we sleep today,
God may not grant another first of May!
Malcolm Day
Magic

Sandra's seen a leprechaun,
Eddie touched a troll,
Laurie danced with witches once,
Charlie found some goblin's gold.
Donald heard a mermaid sing,
Susy spied an elf,
But all the magic I have known
I've had to make myself.
Shel Silverstein
Make some magic with your young readers this April, for time it is a flying, as they say. Seize the day…and a book of poems with it, to share with your child during National Poetry month…and all year long!