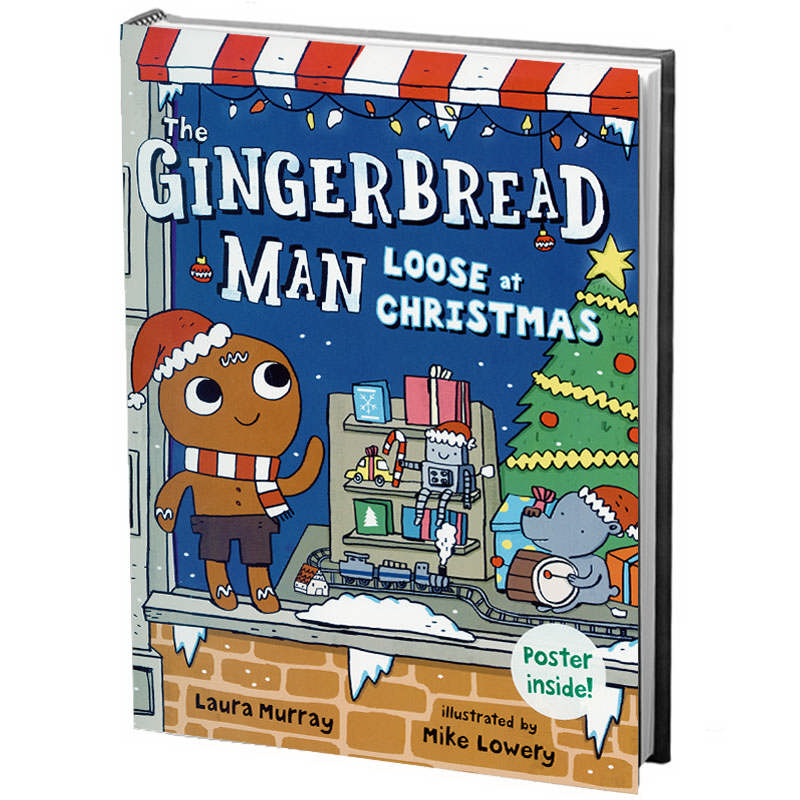 Go on a Gratitude Mission with Gingerbread Man!
The Gingerbread Man Loose at Christmas
By Laura Murray; illustrated by Mike Lowery
As we near the holidays, the smell of gingerbread wafts out of both home kitchens and commercial bakeries.
I happen to love the smell and taste of gingerbread, so I love looking at the elaborately constructed confections decorated and iced, called gingerbread houses.
And, of course there is the famous and infamously elusive gingerbread man of children's literature who is always on the run. So much to do and so little time; especially at Christmas!
And Laura Murray, who has written of "The Gingerbread Loose in the School," and "The Gingerbread Man Loose on the Firetruck," has this gingered cookie on a thank you tour in "The Gingerbread Man Loose at Christmas."
Being thankful for all of the people that touch our lives on a daily basis and make our lives comfortable and cared for, can have no better time to be recognized than at Christmas.
And Laura Murray, via the Gingerbread Man, is on a gratitude mission, along with a faithful following of kids to do exactly that.
Young readers my be quite surprised at the numbers of people that cross their paths each day, performing services and kindnesses that deserve a sincere thank you, come Christmas.
The Gingerbread Man leads the thank you, sparked by a classroom teacher words that provides the impetus for a tour all around town:
 It's the season of giving,
                And we can give, too!
                Our gifts could be things
                That we make, say or do.
                 A small act of kindness
                 can go a long way.
                 Let's do something special
                 For someone today.
Sweet things, kind words, and favors – or all three combined, are on the kiddie to-do list for all the people that touch their lives the year round.
And the Gingerbread Man is no slouch either. He's right in there with the giving spirit as the kids make cards, treats and practice some songs for singing. Yet, he wants his to be a special surprise for a special someone. And out come the glitter and glue.
                  I'll deliver this present

                  As fast as I can.

                  With a jolly Ho-Ho from the

                  Gingerbread Man!
The librarian, police, garbage man, dentist, vet, and grocer are just some of the people on the Gingerbread Man and kids thank you tour.
As cold winter winds whip about, the kids scatter after the deliveries. But wait! The Gingerbread Man is a cookie on a mission, come ice or snow to deliver his very  personal thank you to – yes – the BAKER!  And he is rewarded for his efforts with some snazzy new chocolate wintery footwear.
Did they forget the teacher? No way! No one is forgotten.
I love this book that models in its young students that most important of lessons for young readers this Christmas.
It is not what we get, but what we give that matters the most in the ever more frenetic bustle of jostling crowds, with all of us striving mightily to find the perfect gift.
And, in a world that emphasizes the latter, please cuddle up early in the giving season with your young reader and Laura Murray's "The Gingerbread Man Loose at Christmas" with cheery Christmas illustrations by Mike Lowery, that gets and gives the right message to young readers.
It tells the story of a town and kids imbued with the true Christmas spirit.
Maybe young readers may intuit from this picture book that the best gift they may give any season of the year is…. themselves. What a great thing to realize, and it's delivered in a picture book that delivers!
A fun to-do poster is an added bonus to this book with an eye to the true "reason for the season."