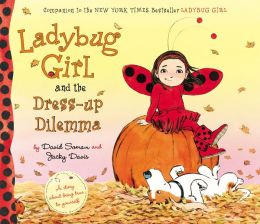 What Are YOU Going to Be for Halloween?
Ladybug Girl and the Dress-up Dilemma
By David Soman and Jacky Davis
The latest Ladybug Girl adventure from the New York Times best selling team husband- and-wife team of David Soman and Jacky Davis, finds Ladybug Girl in a quandary that hit close to home for me while raising up a not-so-happy Halloween memory.
Halloween costumes for kids can be one of two things. It's either dressing up to be someone who is your polar OPPOSITE in real life, or fashioning a costume that is pretty close to your own SELF – inside. When I was in grammar school both because of economic issues, AND because I loved the persona, I dressed up as a nurse – every year! My costume had been made by a wonderful seamstress and it looked like the real deal. It was a true-to-life nurse's uniform of its time, from white uniform and cap, to a dashing navy cape with a Red Cross on the side. I was in heaven. Funny, how moments stick with you through the years.
We entered the local soda shop that Halloween and the proprietor, a neighbor, said in a snarky voice, "Liz, You're the same thing every year." The words stung and my costume suddenly felt old and uncool.
Well, Lulu/aka Ladybug Girl too, is in a bit of a dither as Halloween approaches. An old, familiar question is already being framed on kids' lips this time of year and that is – "Whatcha gonna be for Halloween?" It is for Lulu as well.
The picture book opens on Halloween with leaves piled high everywhere and the eager anticipation of fun filled disguises is in the air. But Ladybug Girl and her faithful basset hound, Bingo, hear words from her brother that stir things up, as she is coaxed to be something DIFFERENT this Halloween.
Her brother starts her on the quest to redo her identity from Ladybug Girl with a harmless, "You're ALWAYS Ladybug Girl!" Hmmm. Now THAT had a very familiar ring to it for this former trick or treater!!
Lulu starts on a search for a new costume and maybe, an identity. Robots, silent film stars, octopus, alien, wallaby (Australian kangaroo) and pandas are tried and discarded. Even a combo of a vampire/panda is met with a, "That's the silliest thing I've ever heard of," by her brother whose input Lulu seems to measure costume acceptance standards by. Will Lulu let her brother define the acceptability of who she will be?
A family trip to the local apple orchard pre trick or treating, finds Lulu scanning the fields of pumpkins and a silent windblown scarecrow for last minute ideas. Even a batty disguise is on her radar. Yet none of these seems quite right. You're on the right track now, Lulu!
A young girl lost in a corn maize provides Lulu/lLadybug Girl with the opportunity to show the courage of her convictions and the chance to be, well, HERSELF!
On a darkened street, lit only by the light from houses greeting incognito candy gobblers, Ladybug Girl reveals to her ninja clad sibling what she deep down knew to be true – "I always knew that I wanted to be Ladybug Girl!"
Knowing who you are at your heart is no easy lesson for any of us, but when you have the courage to be true to who you are, despite the clamor of the crowd – or one person – now THAT deserves a big round of applause from this Halloween nurse!!
Ladybug Girl, you've done it again and this is one Halloween picture book that provides a most satisfying treat!