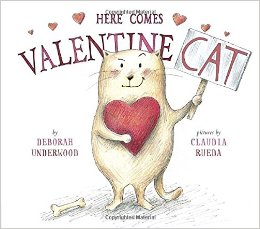 Happy Valentine's Day from Cat and Liz's Book Snuggery!
Here Comes Valentine Cat
By Deborah Underwood; pictures by Claudia Rueda
Can a cranky cat have a change of heart towards an assumed canine enemy on Valentine's Day?
You bet this Cat can.
If you've enjoyed Deborah Underwood's New York Times Bestseller listing of cat conversations with a seemingly not to be moved feline, as in Here Comes Easter Cat, Here Comes the Tooth Fairy Cat, and Here Comes Santa Cat, then you are in for a sweet treat on this day for love.
Or, at the very least, in Cat's case, a day of like!
Who of us does not appreciate a valentine sent from the one we've loved, liked or befriended?
But, what if the inference is made by young Cat that a valentine sent to a less than friend, following a volley of a tossed bone and ball, headed over Cat's fence, is well deserved?
Cat's crossed arms, picket signs with a dog in full growl mode, plus virulent valentines sent in response to the canine, are all signs of no relent mode on Cat's part or heart.
Why things have even taken the shocking turn of rocket draft designs and a subtle crafting by Cat, that speaks of sending the canine skyward!
BUT, what if the soft-voiced and subtle offstage inquirer asks pointed questions of Cat, allowing the thrown bone and ball to be seen and felt in a whole new light? Might the missiles instead be proffers of friendship?
I love the dialectic that occurs between a soft-spoken off stage friend and Cat. It's always permeated not with judgment of Cat's feelings, but rather, a sort of "Do you think you've looked at all the possible responses here?"
And the author sometimes even agrees with Cat's frustration with the yowling of the neighboring dog, as in:
Wow. He is kind of loud, isn't he?
Parents and young readers are in for a gentle primer here on the phrase "Never Assume" in the handling of what kids may take as the supposed motivation for actions they interpret as, well, less than friendly.
But then, on a bit of further reflection, bingo, it turns out to be quite another. And that goes for cat, canine or human behavior!
I love the listening ear of Cat's confidante that serves alternately, and gently, as commiserator, sympathizer, yet also redirector of behaviors, as in:
Gee, Cat. Do you think

Dog was howling because

he's…lonely?

Aw, Cat!

It's not too late to be his friend!
Cat tries yet another neighborly Valentine, prompted by a sweet entreaty from dogdom. Cat's valentine too, this time out, has less sass, and it reads:
Roses are red

Violets are blue

Dogs are annoying

What?!

except for you
Behavioral change is possible…in kids and cats. And with the ever cranky, but cute Cat to lead the way, Deborah Underwood and the spot on expressions for Cat, provided by Claudia Rueda, make the learning and laughing curve fun for young readers and parents.
Happy Valentine's Day from Cat and Liz's Book Snuggery!