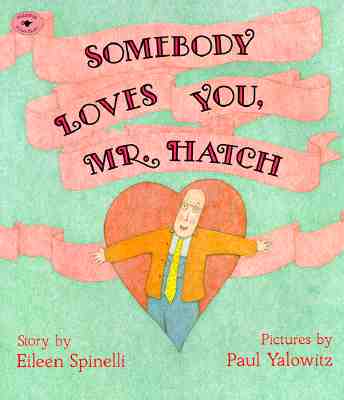 Happy Valentine's Day from The Snuggery!
Somebody Loves You, Mr. Hatch
By Eileen Spinelli, Pictures by Paul Yalowitz
Did you know that Valentine's Day is second only to Christmas in the number of greeting cards sent on a holiday? And why not, it is a day to celebrate love and the happiness it brings. Card sellers, candy makers and florists do a robust business as people send missives of love far and near.
Enter Mr. Hatch, who lives alone by a very strict routine and works in a shoelace factory. He sits alone at lunch with a cheese and mustard sandwich and a cup of coffee. A single prune is his dessert. This is a man isolated and alone and seems to like it that way with no friends. But that is about to change! His routine stop at the newsstand and fresh turkey wing each night for supper is about to undergo a sea change too.
On February 14th, a giant valentine filled with chocolates and enclosed with a card that says, "Somebody loves you" is delivered to Mr. Hatch, by Mr. Goober, the postman.
Change is in the air as Mr. Hatch puzzles over who the secret admirer might be. He can't keep his eyes from the heart shaped box and even pops in a piece of the darkly delectable chocolate.
Pretty soon the now smiling Mr. Hatch is dabbing a bit of aftershave behind his ears and wearing dashing yellow ties with blue polka dots! Passing out chocolates at work from his valentine box, he speaks to everyone.
His interest reaches out to neighbors in need. This includes coverage for the newsstand owner who can't leave his stand to go to the doctor and the butcher concerned because his daughter is running late from school. He becomes a baker of brownies and maker of lemonade to share with his neighbors and who knew he could entertain at his impromptu block party with his harmonica?
BUT, what happens when the postman innocently asks Mr. Hatch if he still has the package delivered on Valentine's Day? Mr. Hatch is a bit uncomfortable, as he surely knows where this is all going. A delivery MISTAKE has been made by the embarrassed Mr. Goober.
Will Mr. Hatch revert to his old ways pre Valentine? Will his neighbors forget the many kind deeds he performed such as mending fences, saving bones for a neighbor's dog, not to mention his donation of flowers for a local garden? Even the kids remember his delicious brownies and lemonade.
Will he spend his days cleaning off his porch alone with that dustpan and broom?
I read this book recently at a school to a class of Pre-K children and they loved Mr. Hatch and were initially concerned with his predicament, but rejoiced at the outcome. It's great when kids become fully invested in a story, and particularly in this one, as it shows it doesn't take much on anyone's part to change a life. Maybe all it takes is for a person to say, "Somebody loves you!"
Maybe there's a small Mr. Hatch in each of us waiting to come out and kids will recognize the opportunities that may arise to reach out even in their own classrooms to a fellow student.
After all, Mr. Hatch didn't get that way overnight, did he? Well, did he?