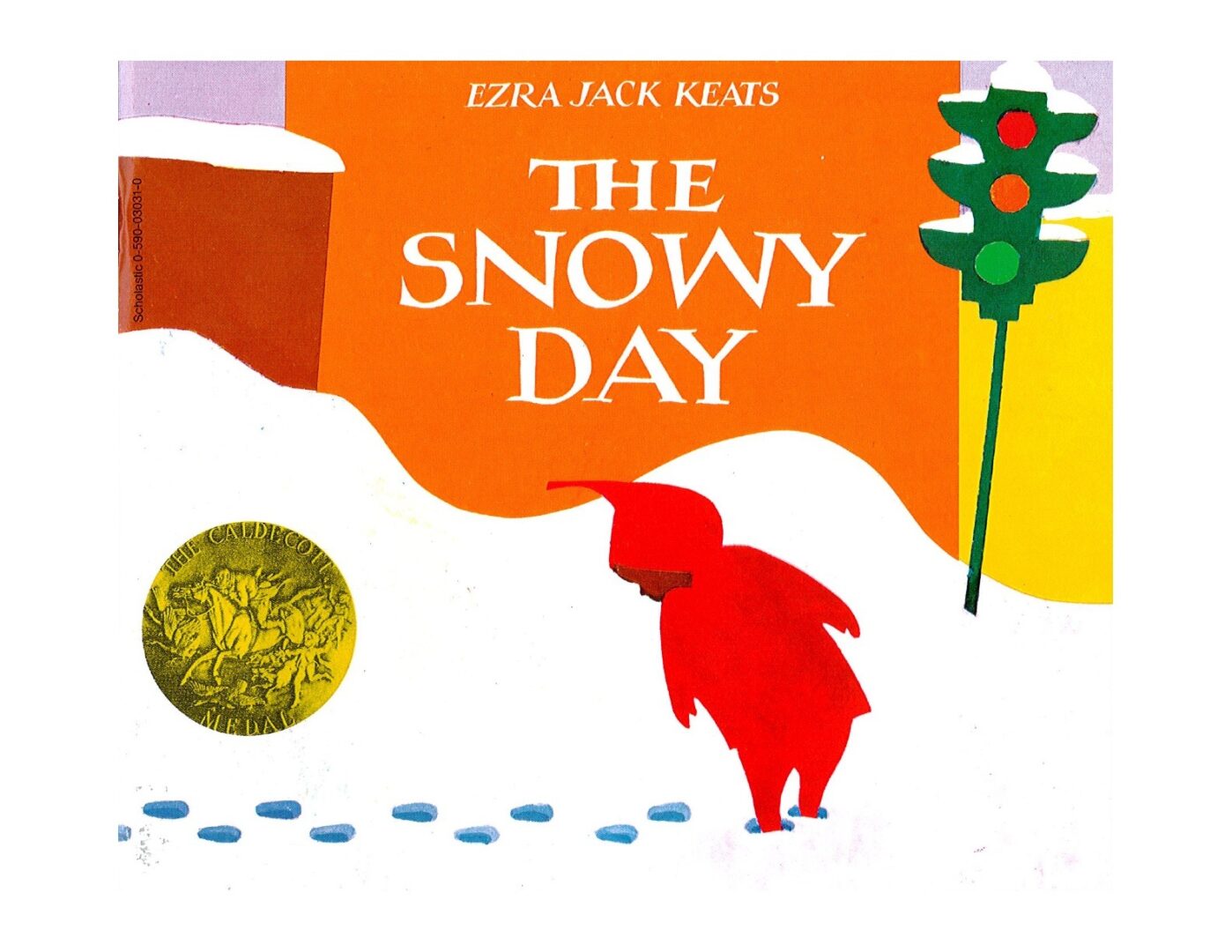 Essential Classics: Celebrating 75 Years of the Caldecott Medal
The Snowy Day
By Ezra Jack Keats
Talk about synchronicity! That is where events fall into an almost too perfect alignment in the universe. Well, this is the opportune month and weather moment to introduce your young reader to Ezra Jack Keats' Caldecott winner of 1963 called The Snowy Day.
Not only are they calling for a snowfall of some significance in the northeast in the next few days after that genial groundhog, Punxsutawney Phil, called for six more weeks of winter.
And, it was recently Ezra Jack Keats' birthday on March 11th.
In The Snowy Day, we have the first time a black child was featured as a main character in a picture book. And we did have it featured here at the Snuggery originally in February some years ago which was also African American History Month.  Plus the iconic figure of young Peter in this beloved Way Back Wednesday classic picture book is featured among the ten iconic characters seen in Brian Selznick's logo created in celebration of 75 years of the Caldecott! Three for three!
You have the ideal moment to follow young Peter's path as he awakens in wonder to the first snowfall of the year and follow a day of universal childhood winter moments. Peter, with his pointed toed boots pokes his brown stick at trees to shake the snow off, makes snow angels with wide wings softly swishing in the fresh froth, has snowball fights, slides down mountains of the white stuff piled high and innocently pockets a snowball to save for the next day and ends it atop a stool while mom pulls off his wet through sock, listening to his adventures.
How many parents and children out there can relate to the Keats' recreation of one perfect snowy day? Judging by its 51st year in publication, The Snowy Day has, and continues to be, shared and enjoyed by young readers in successive generations.
And as for its relationship to African American History month, listen to these words from Ezra Jack Keats himself as The Snowy Day took shape in his mind:
"None of the books I'd been illustrating featured any black

kids – except for those token blacks in the background. My

book would have him there simply because he should have

been there all along."
While it may not seem groundbreaking in 2023 to have a black child as the main character in a children's picture book, try looking back in time to the 1960's and the cultural norms present at that time. While it may have initiated a closer look at the disproportionate representation of minorities in the world of picture books, the beauty of The Snowy Day was its nonchalant introduction of a black child as a major figure with no horn blowing or grand announcement. It just was. It reflected reality and that was, and continues to be, the natural beauty of The Snowy Day in its truthfulness of one child's experience that just happens to be black.
Ezra Jack Keats' memories of snowfalls experienced in his growing up years in Brooklyn, New York, provided the inspiration for his wanting to capture the delight of a child's first snowfall.
And listen to this great quote from the author taken from a book edited by Lee Bennett Hopkins called, Pauses: Autobiographical Reflections of 101 Creators of Children's Books. Sounded great, so I just ordered it for myself.
"I wanted to convey the joy of being a little boy alive on a certain kind

of day – of being for that moment. The air is cold, you touch

the snow, aware of the things to which all children are so open."
That is the joy and beauty of the essential classic picture book. It is a feeling, a moment, a narrative surrounded by pictures that perfectly capture something so new and yet so universal that it distills it into something wonderful that a child will want to experience again and again. So please, create your own memory of The Snowy Day with your own young readers and bring along the big ones too. This snow will melt away eventually, but your reading of The Snowy Day and its recreation with your family won't!