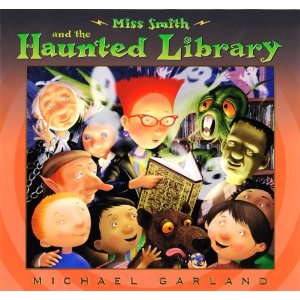 Haunted Books Come Alive!
Miss Smith and the Haunted Library
By Michael Garland
Reading is truly a magical and transportive experience with its opportunity to meet new literary characters, but when Miss Smith, young Zack's favorite teacher, takes his class for a visit to the library, some VERY strange individuals appear!
First of all, the library with its strangely forbidding stone exterior seems anything but warm and welcoming. Virginia Creeper with her deep dark eyes, blue hair and pale skin is not the formulaic librarian image with hair in a bun and orthopedic shoes going about saying shhh! She seems, well, a bit odd, a tad off.
Mentioning this is the season for spooky stories, Miss Smith asks for a few suggestions from this most unusual of librarians. Whoa Nellie! For out of the pages of a book entitled Incredible Stories, comes a barrage of legendary literary and spooky types.
Beginning in her high-pitched squeaky voice, Ms. Creeper's words cause a thundering of hooves to be heard and The Headless Horseman from Sleepy Hollow appears! As she continues her reading, a cavalcade of menacing men and women of storybook fame come leaping out of the book. Among the horde of horrible types are Frankenstein's monster, Count Dracula, Marley's ghost, Captain Hook, The Wicked Witch of the West, The Queen of Hearts, The Jabberwocky, The Hound of the Baskervilles and others of equal evil infamy!
The children are, in a word, aghast. Are these literary lions friendly or fearsome?
Is it time for fight and flight? Or perhaps… to party hearty with these unlikely participants.
Kids will not only love Miss Smith and long for a librarian such as Virginia Creeper, their curiosity is sure to be peaked about the books behind this group of creepy creatures.  Whetting the appetite of the reader with just a snippet of an introduction to some famously foul literary characters, Mr. Garland lists them on the last page of his refreshingly original book under Where to Find Scary Creatures – A Guide by Virginia Creeper! Here are listed the titles of the actual books from which the characters came to fame or infamy!
How Ms. Creeper gets these felons back into the book is worth the read.
This is a perfect Halloween picture book with great and ghoulish illustrations of some of the most famous bad guys and girls in all of children's literature.
To miss Mr. Garland's book would be a shame, but the greater misfortune would be the loss of reading the books from which they sprang.