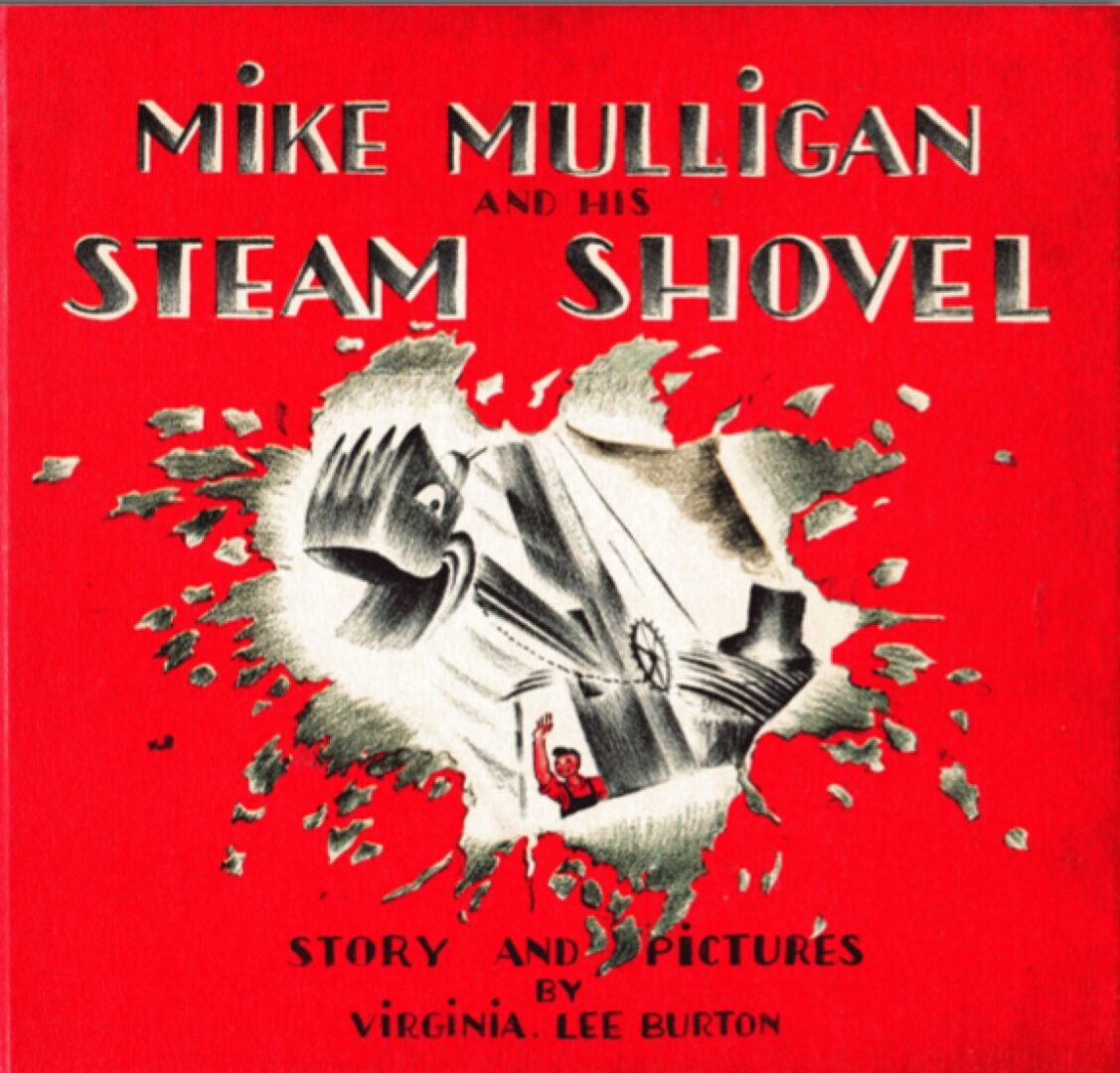 Mike Mulligan and His Steam Shovel
Story and Pictures by Virginia Lee Burton
In this age of technology, which functions and changes at breathtaking speed, I love to look back over the picture books of Virginia Lee Burton. It's a grounding experience and reminds me of the quote,  "The more things change, the more they stay the same."
The Little House written in 1942, critics suggest is not just a simple tale of generational timely changes affecting a "little house", but also subtly may have also been tackling issues of urban sprawl and obsolescence and their effects, long before these words were on the radar of the popular culture. In other words, she was pretty prescient.
Getting young boys interested in reading can sometimes be a challenge and discovering age appropriate books can seem a daunting task for parents at times. Well, I believe Burton's Mike Mulligan and His Steam Shovel, is a must read for young boys and girls for a variety of reasons.
Its story relates the digging exploits of Mike and his faithful steam shovel, Mary Anne. Girls will love having a steam shovel named after them! They are one dynamic duo for years, shoveling out canals, roads, and even basements for skyscrapers.
With the advent of new gasoline driven steam shovels, Mike and Mary Anne find jobs hard to come by. Mary Anne is OBSOLETE!
Do they throw in the steam shovel? Heck no! They move to the country at a time when other owners are selling their steam shovels for junk. But not Mike; he loves Mary Anne. They are a team – for better or worse.
Even though she is powered by steam, Mike is sure Mary Anne, who is still in fine shape, can dig in one day what it would take 100 men to do in a week.
The duo comes to the pleasant town of Popperville and there enter into a bit of a devil's bargain with the local selectman, one Henry B. Swap!
Mike, who is anxious to prove Mary Anne's work ethic and ability, is in a bid to dig the cellar for the new town hall. Repeating the assurance that Mary Anne can dig in one day what 100 men can do in a week, Mike adds confidently, " If we don't do it, you won't have to pay." One day to dig a big town hall cellar? Yikes!
Can Mike and Mary Anne do it? You bet your steam shovel they can. Practically the entire town turns out to see the event and cheer on the grit and determination of the twosome. As the sun edges towards the hill signaling the end of the day and the contest, yells of hurray from the crowds turning out to see the race from nearby towns of Bangerville, Bopperville, Kipperville and Kopperville fill the air! Love those names.
And even the inevitable potential glitch at the close of the race for time, instead provides a neat solution suggested by an eager young onlooker, for the future of both Mike and Mary Anne
Kids will be cheering their heads off as the duo battle the smarmy Swap in a test to prove their mettle.
Lessons of the value of hard work and tenacity, the beauty of friendship and problem solving through ingenuity, make this gem of a book one of the essentials in any child's picture book library. Go Mike and Mary Anne forever!