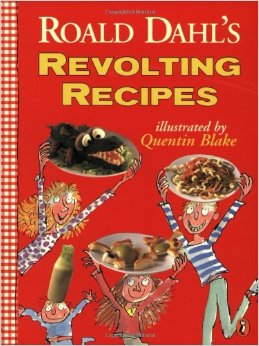 Hit the Kitchen with Roald Dahl
Roald Dahl's Revolting Recipes
illustrated by Quentin Blake
With the onset of the Covid-19 pandemic, many young families have been eating in, sampling new taste treats to tempt the palate of the young.
And why should the yuck factor not enter into this mix, as what could be more tempting to the palate of the young than the gross factor.
And Roald Dahl's volumes of children's books provide plenty for the palate in this regard.
Young kids are somehow or other charmed by the appeal of the yucky. In fact, the yuckier the better. Witness the appeal associated with JK Rowling's candies that appeared in the Harry Potter series. Remember the ones that surprised "muggles" and wizards alike with their taste when you popped them in your mouth? They were called Bertie's Botts Every Flavor Bean. Some were, shall we say, revolting. Beans with flavor recalling something emanating from one's nose was one you could inadvertently come across in the choices, and that is but one with the ick factor that comes to mind. For the sake of delicacy, I shall not go further.
Playful, with just a smattering of the icky might well describe this recipe filled book for hungry kids, taken from titles of foods named in Roald Dahl's books. I'm willing to bet that young readers were just itching to taste some of the deliciously deviant things named in Dahl's reads.
How about Eatable Marshmallow Pillows and Lickable Wallpaper from "Charlie and the Chocolate Factory"?
Stink Bugs' Eggs, and Mosquitoes' Toes and Wimpish Roes Most Delicately Fried from "James and the Giant Peach?"
And my all time favorite might be The Enormous Crocodile, who, when finished, could well serve as a party centerpiece! Beware the coat hangar inserted to keep him whole!
Bruce Bogtrotter's Cake from "Matilda" looked yummy.
And Boggis's Chicken taken from "Fantastic Mr. Fox" actually looked quite tempting.
When you pair these tempting treats with Quentin Blake's recognizably iconic art style from Dahl's children's books, you may find yourself pulling out the pots and pans with the kids to give these recipes a go.
With more leisure time, perhaps on weekends, that might be available for fun things, it might be a great pairing of the actual shared reading of Roald Dahl's wondrously witty books, right along with these tempting treats his books evoke.
Don't be a bit surprised if the first treat the kids ask to make is "Stickjaw for Talkative Parents," credited to Dahl's "Charlie and the Chocolate Factory."
Yum! Always wanted to learn how to make meringues!