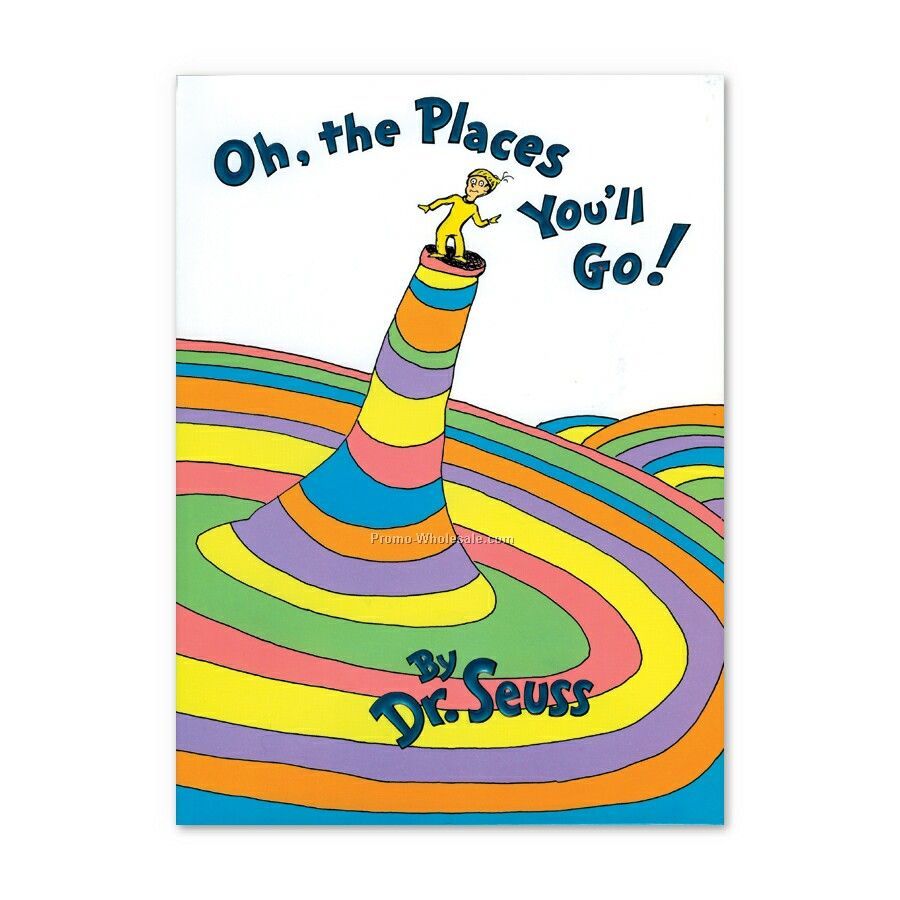 The Doctor is Definitely In!
Oh, the Places You'll Go!
By Dr. Seuss
Theodor Seuss Geisel, aka Dr. Theophrastus Seuss, the pen name he once used in his career as writer, poet and cartoonist, popped into my head the other day and the title of the above picture book that entered my life 47 years ago – on my wedding day.
Strange you might say that a picture book could be a touchstone to a turning point in ones life, but that is exactly what "Oh, the Places You'll Go" was to me on June 16, 1973.
My husband and I sat in Fordham Chapel and waited for his brother, Tom, a Jesuit, to begin the homily at our wedding. Okay, so I figured it would be deeply theological and filled with literary references on love. It was, in a way, but the references were solely on a picture book by Dr. Seuss.
Hmm, I thought, a bit disappointed as I listened.
"Where is all this going?" It was going to a great place via a great book with a great message for the young traveler – on the road to a new marriage, a new career or a new anything in life.
As the book starts out, and we do too, on any of the above mentioned journeys, we are filled with optimism, heads filled with the endless possibilities that life holds. NOTHING can dampen the enthusiasm we feel for this initially perfect, mistake-free future we seek. But, as Dr. Seuss oh so practically phrases it:
I'm sorry to say so

but, sadly it's true

that Bang-ups

and Hang-ups

can happen to you.

You'll get mixed up, of course,

as you already know.

You'll get mixed up

with many strange birds as you go.

So be sure when you step.

Step with care and great tact

and remember that Life's

a Great Balancing Act.

Just never forget to be dexterous and deft.

And never mix up your right foot from your left.
Taken as a whole, it's probably one of the best and most succinct pieces of advice for a young couple starting out, never mind young ones starting off on their own first life adventures of any and all sorts.
In his humorous verse, Dr. Seuss has built in a story with wit and wisdom for the newly wed or the newly graduated from kindergarten or even high school or college. It abounds with life lessons.
Fun, fame, choice, and being alone all figure into the trip. And while your child is turning the pages to this wonderful book, they are also learning some of the foundations of that new buzzword called "emotional intelligence": the ability to perceive, control and evaluate emotions.
It appears to be in the culture of the now, or in the future, every bit as important as the intelligence that we are usually used to measuring, via testing in today's children, to the nth degree.
Being a child in 2020 in the midst of the Covid-19 pandemic and the slew of new normals that came with it, requires an ability to negotiate and become resilient to the ups and downs of life when the unexpected occurs requiring both patience and tenacity!
A new school year with all the new safety protocols in place such as sanitizing, face masks, social distancing and the like are apt to be a bit unsettling, no?
Maybe not, if we model to our children the same unflappable demeanor and adaptability that we want THEM to strive to achieve in the face of the new and not so nice normality of restrictions that life will most certainly put in their path, at times.
"Oh, the Places You'll Go" is the perfect beginning picture book roadmap for children on the journey of life, plus they are the main character.
And hey, it helped me too on that long ago June day when I muttered to myself, "What can a picture book teach me?"
Well….. I've been married for 47 years and those Seuss lessons came in very handy now and again.
You go, Dr. Seuss! Life is the Great Balancing Act!
And hey, teeter totters are fun….once you get the right balance.