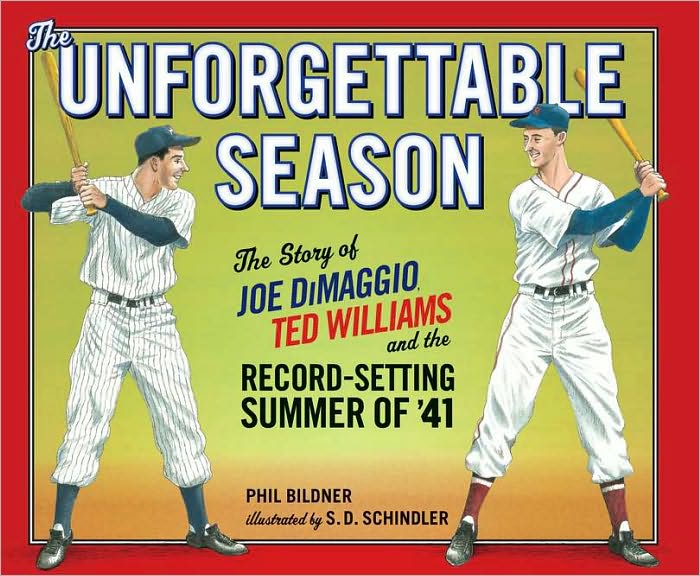 Where Have You Gone Joe DiMaggio?
The Unforgettable Season
The Story of Joe DiMaggio, Ted Williams and the Record Setting Summer of '41
By Phil Bilder; illustrated by S.D. Schindler
With "The Boys of Summer" as they're called, in hot pursuit of pennant races today and the World Series of Baseball just finished, I thought it might be fun to take a look at a few books which look at our national pastime from the vantage point of its glorious and sometimes not so glorious history.
With the game of baseball, the quintessential American sport, recently mired in controversies involving record setting, it's refreshing I think for kids to take a look back in time when the game perhaps was a bit more innocent yet still controversial.
The following three picture books present a look first at the baseball Negro Leagues which existed before the color line was broken by Jackie Robinson, secondly at women in baseball during World War II and finally some pretty amazing record setting by two batting giants in 1941. So let's "Play Ball!"
That is what is being served up here in Phil Bilder's interesting look into the 1941 baseball season and the national pastime of baseball focusing its collective attention on the two great batting stars of the day – Joltin' Joe DiMaggio of the New York Yankees and Ted Williams of the Boston Red Sox.
Joe was in pursuit of the dream of hitting in fifty-six straight games, while Ted was also attempting to finish his season with a .400 batting average. Both of these players' records are still unsurpassed today!
With the Yankees in possession today of their division championship, a look back at one of the most identifiable of Yankees and his batting prowess is timely reading. The legacy left by these two giants of baseball – Joe DiMaggio and Ted Williams looks back in time to recapture the feeling of the pure love of this American sport and its capturing of the imaginations of generations of youngsters.
The Unforgettable Season is certainly a book young baseball enthusiasts with a love of the game can enjoy as they enjoy this tip of the hat to these legends of the sport.