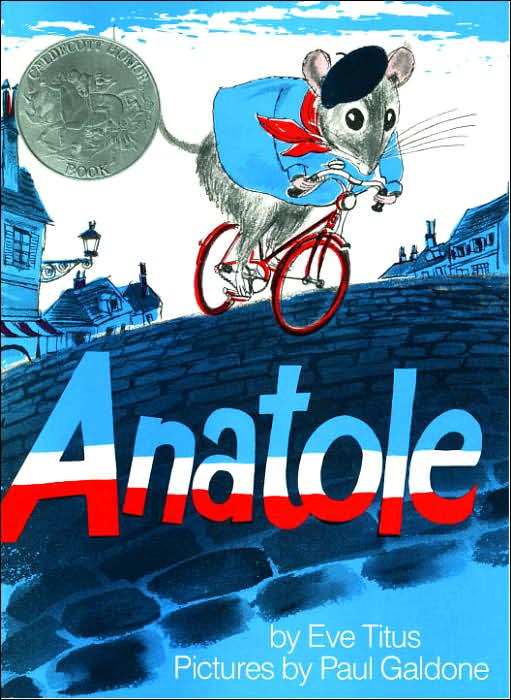 Anatole
By Eve Titus; pictures by Paul Galdone
We meet in this Way Back Wednesday essential, a most honorable French mouse called Anatole. This Caldecott honor book is a wonder for which Publishers Weekly raved, "We add our voice to the thousands of mice who roar… "Vive le Mouse Magnifique!"
Paul Galdone, a talented illustrator did the artwork for nearly all of Eve Titus's books, including Basil of Baker Street and later adapted to the screen by Disney as The Great Mouse Detective. If you enjoy Anatole, your child may also enjoy a sequel, Anatole and the Cat.
In Anatole, a noble mouse is confronted with shocking news gained through unintended, but overheard human conversations. The French mouse, on one of his nightly forays for food and accompanied by his best friend Gaston, discovers an unimaginable truth. Humans feel mice are terrible creatures, nibbling food in people's homes, and gasp, further, "They are a disgrace to all France" and "To be a mouse is to be a villain!"
Anatole is shocked while Gaston is more relaxed about the comments, believing that each behaves according to his nature. But Anatole is not placated! To be scorned and unwanted is a loss of pride, honor and self-respect. This is a loss the inventive and honorable mouse intends to rectify tout suite!
Visiting the Duval Cheese Factory, which has fallen on hard times and armed with a series of signs stating this mousey cheese gourmand's insights into taste improvement (for who knows the complexity of cheese flavoring better than a mouse), provides a win-win for man and mouse alike.
Discovering how Anatole wins the respect and thanks of the beneficiaries of his cheese critiques, while protecting his identity and in the process earning his bread -er- cheese, is a delightful tale children will thoroughly enjoy. Don't be surprised if at the end, kids ask for a sampling of Camembert, Roquefort or Brie. After all, c'est la vie, as Anatole would say.