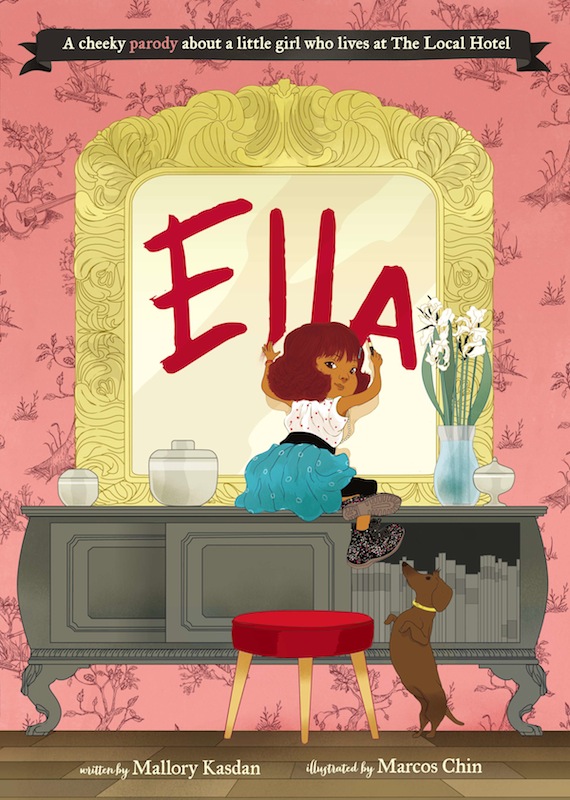 Kisses to all the small Ellas out there!
Ella
By Mallory Kasdan; illustrated by Marcos Chin
"Ella" is a picture book urban parody of the 1955 iconic Plaza Hotel living, precocious but precious, lots of time on her hands and well-to-do child of means called ELOISE!
Eloise lives with HER Nanny, a dog called Weenie, that looks like a cat, and the turtle, Skipperdee who consumes raisins on the "room on the tippy-top floor" of the hotel. Ella, too, lives in the Penthouse or the "PH" as she dubs it.
Eloise is famous or infamous, as you please, and has enchanted readers both old and young. HER creator, Kay Thompson, star of "Funny Face" and cabaret acts galore, brought her to life with several subsequent books and assorted TV productions. 
Both Eloise and Ella's days are filled with finding devious and devilish ways to prevent boredom. Remember the famous quote from Dorothy Parker? "The cure for boredom is curiosity. There is no cure for curiosity."
Both Eloise and the hip, happening Ella stave off the Big B with abandon – and a great deal of curiosity.They are both six. Eloise lives at The Plaza, while Ella resides at "The Local Hotel" that looks like it could be situated near the High Line in NYC.
Eloise has a female live-in called Nanny, while Ella has a male nanny, named Manny who is ultra cool. He has tattoos for sleeves, makes films, plays guitar AND pickles veggies!
Marcos Chin's art has a colorfully urban edge that is the exact opposite of the black and white drawings of Hillary Knight that brought Eloise to lavish life in her elegant Plaza abode. The only red in those books was the bow in Eloise's hair. I like elegant!
Ella has a poofy, blue barrette held hairdo unlike the pin straight locks of Eloise. And here, there are no black, pleated skirts with white blouse and accompanying Mary Janes for Ella.
Nope. Her wardrobe consists of a sky blue skirt with accompanying sleeveless blouse, cinched black belt and tights. High top sneakers are her shoe of choice. Her dog, a doxie, travels in a red polka dotted bag slung over her shoulder. She's ready to go and go she does. After all, her entire back and front yard is the cultural richness of New York!
Ella also has a pooch named Stacie, and instead of Eloise's turtle called Skipperdee, she has a fish called Rasta. Cool!
Weaving her way through the ethnically diverse parade of patrons and employees of her hotel home, Ella is as comfy in urban chic as Eloise is at the elegance of the Plaza.
Bell Captains Levi and Louis at Ella's hotel are red bearded, white shirted with bow and hand over hand style ties. Very cool! And the courtly Maverick, the African-American Bouncer from the roof top bar, greets Ella with a kindly, "What's up girl how you feel?"
Ella has a LOT of time on her hands to be filled. Never a waster of that precious commodity, she uses the land line at the Front Desk to do helpful wake up calls to sleeping patrons. Hmmm.
This child is more than a bit bored as she pranks her way through the day. A Metro card figures largely in one. Nice current cultural touch here.
Ella spends large portions of some days texting, meditating, doing Zumba and performing mani/pedis for her dog. This girl has a ton of time on her hands! She also loves to hide the "Privacy Please" signs from other residents' door knobs! Cute.
She checks stairs ways for paparazzi and has even attended a famous woman politico's fundraiser – I'm sure for a hefty contribution.
Okay. Picture books ARE the portal into other worlds that young readers may never have the chance to experience themselves. I love that. And, aside from the parody of Eloise, that is what "Ella" shows us: what an upper class, maybe 1% of urban children like Ella or Eloise experience.
But, may I be honest here? There is something so wistfully sad about both Eloise AND Ella. Where are the parents? This is definitely parenting by proxy, to say the least.
Then again, maybe it does give kids a window into a much wider variety of diverse population than the suburban child might encounter, and it does give them pause to appreciate the perhaps "helicoptering" parents they DO have.
But I can't help feeling both kids are lonely. Ella may be longing for something much more fulfilling than attending Fashion Week, attending 62 events, eating edamame, and living a life literally littered with pranks and poking around the fringes of adult lives. This is a child very much left to her own devices for amusement.
Question. Where are the other kids her own age? No time for "playdates" as Ella is on the fast track to the Ivys via her hotel-schooling home tutor from "Hah vard" named Judith. Her education, at least formally, comes to her in the creative memoir journals Ella pens in gold-silver glitter. Ella is a mini Auntie Mame in the making!  
For me, and maybe unwittingly for Ella, she reveals herself more than a little, in the most honest and open passage of this entire picture book:
I use my binoculars to look in the windows of other buildings.

Sometimes I see a dad get a kid a glass of water and a kid read a book with a flashlight before a mom comes in and the light goes off and all is still.
Ella seems to be looking over the shoulder of a particular world that she has very little knowledge of – but one with which she might just like to have a much closer experience. Out there, in that building across the way, is a partially emotional unknown landscape – for her.
Her mom, referred to as a person in the "Entertainment Industry", knows Bono and Ella gets to speak with her mom in video chats! These tete a tetes occur between mom's scene changes and at night, before Ella goes sleepy bye! Hard to tell if this is a seldom thing or a way of life. 
Young readers will probably feel that Ella's life is way cool as she scoots through her days, literally, with Manny, the minder. They do  "a lot of ordering in and taking out." And Ella's doxie dog walker, Topher, would probably be a great helper to most young kid's hearing mom shout, "Did you remember to walk Bentley?" But then, again, how DO you teach kids some personal responsibility?
BUT, I do think dropping that big watermelon off the roof of The Local Hotel might possibly kill someone, sweetie! Manny, where are you?    
Deep down, perhaps, all young Ella unconsciously wishes for, and wants, is to be tucked in at night by mom or dad, with that last minute drink of water.
Tell you what, Ella. C'mon out to our farm for a new and refreshing experience of life with picking grapes, veggies and riding tractors. It's not cool or cray, but I think you just might find it comforting.
And, I promise to tuck you in at night, give you a glass of water – and read lots of books to you too, of course! 
Kisses to all the small Ellas out there!