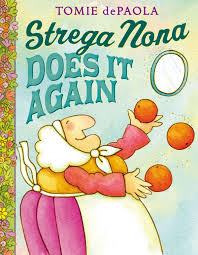 In Memory and Celebration of National Pasta Day, October 17, 2021 are Tomie Anthony de Paola and his beloved Strega Nona…for Always and Ever!
Strega Nona Does It Again!
By Tomie de Paola
The New York Public Library recently printed its list of the top 100 Children's books of the last 100 years and guess who, not surprisingly, is on that list not once, but twice! Yes, it's the loveable cherub himself, Tomie De Paola. Originally published in 2013, "Strega Nona Does It Again." is a noteworthy addition to the Strega Nona legendary Grandma Witch and her problem solving abilities. His original "Strega Nona" and "Tomie de Paola's Mother Goose" are both on that top 100 list and there is a good reason why.
In order to write for children, you have to be able to tap into the heart of childhood and the hows and whys of the way in which children think and feel. Children can sniff out the insincere a mile away. Hence Tomie's success with the picture book genre because you are talking about an author whose favorite holiday is Christmas! He has "the touch" as they say, to communicate with the young and the young at heart.
This book finds the beloved Strega Nona dealing with the narcissistic Angelina. She has come for a visit to Calabria and Nona, because Angelina's father, a cousin of Strega Nona's, can do nothing with her. Sound familiar? Which is the real witch as far as insensitivity to the feelings of others becomes clearer as Angelina commandeers the services of Strega Nona's friend, Bambolona, that recurring big baby doll of a character, as her maid and the bumbling Big Anthony as her footman.
Mia Madre! The poor duo is co opted into constructing a flowery love shrine to the man Angelina is smitten with. Angelina, contradicting the "opposites attract" theory of love, is enamored of the equally self-absorbed, Hugo. How to bring together two people in love who truly are made for each other is a conundrum not beyond the negotiating talents of the kindly and wise, but ever practical Strega Nona!
Tomie's illustrations are warm and wonderful with the earth tones of Italy that bring Strega Nona's world richly and at times laughingly alive to young readers. I love the ton of clothing Angelina brings with her for her stay with Strega Nona. Vanity, thy name is Angelina! For here is a young woman who surely rivals Elizabeth Taylor herself in that department; an actress who reportedly traveled with umpteen pieces of luggage in tow!
Take a peek at the dedication page and then compare the bright red tumbling tresses of Angelina and one songbird named Bernadette Peters. I say no more! The perfect and pouty lips of Angelina are a clue to Tomie's homage to this great singer. Though physical resemblance is the only manner in which they compare, thank goodness!
Tomie's Strega Nona has regaled children from her first entry into the picture book world in 1976 and he is only one of five children's authors to have won both a Caldecott and a Newbery Award! Tack on a Smithson medal from the Smithsonian, a Regina Medal from the Catholic Library Association AND the Laura Ingalls Wilder Award recognizing his contribution to children's literature and you have an author declared a "national treasure" by the state of New Hampshire where he resides.
The criterion for the Regina Medal that I mentioned previously is given to the person who must, in the words of English poet Walter de la Mare, be a living exemplar of something great in children's literature for "only the rarest kind of best in anything can be good enough for the young."
Amen to that, Walter!  Stated more colloquially, Tomie is "the bomb" as the kids say!
If your young reader has not read the iconic original "Strega Nona," that introduces Big Anthony and Strega Nona's Magic Pasta Pot that boils and bubbles with amazingly delicious pasta and then can be quieted with three…..
But no, you will have to read what happens when Big Anthony tries the magic himself when Strega Nona is away and chaos ensues because of his neglect of the three….!
Poor Big Anthony, but trust our beloved Strega Nona to arrive and save both Big Anthony and the town from a pasta pestilence.
Earliest references to pasta, according to the "National Pasta Association" website called "Share the Pasta," the toothy and much-loved carb delight seems to hark back to the fourth century B.C.
According to the site:
"In Tuscany, there's an Etruscan tomb where an ancient wall mural depicts what appears to be a man making

pasta with primitive equipment. The Etruscans were an early pre-Roman civilization that lasted until 27 B.C.
Wonder if it was Strega Nona's Big Anthony before the debacle?