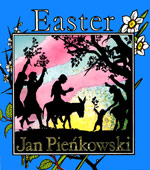 Major Praise for this Holy Week Easter Title
Easter
By Jan Pienkowski
This 1989 Easter picture book classic is a perfect fit for families that would like the opportunity to share with their young readers, the events of Holy Week, beginning with the procession on Palm Sunday, through the successive solemn events that unfold, with their culmination, in the joy of Easter Sunday.
Taken from the King James version of the Bible, Jan Pienkowski,  an emigre from the ravages of World War II in Poland, resided variously in Bavaria and Italy before coming to England, where his artistic skills at Kings College, Cambridge, emerged.
He is twice a recipient of the coveted Kate Greenaway Medal for illustration.
In Easter, Jan uses his keen insights culled from a lifetime of observing humanity, and  hones his craft into his own visual viewpoint of this remarkable and classically unique take on a religious weeklong journey at the heart of Christianity.
And, Jan has as his instrument of telling, his trade mark black silhouetted figures outlining with their depth of profound poignancy and passion, a breathtaking look at the powerful pull of the journey taking the Christ from the hosannas of Palm Sunday, through seeming defeat and death, to glorious resurrection on Easter morning.
The praise heaped on this book from newspaper reviews to publishing critiques is uniformly high.
Here are but a few:
             A memorable, dramatic, reverent

             presentation.

                                Kirkus starred review

 

 

             The glory of the presentation is

             matched by the exquisite illus-

             trations.

                               The Baltimore Sun

 

             

             This is a masterful ode to a biblical

             story, and will give readers of any

             age a cornucopia of images to pore

             over and think about.

  

                                  Publishers Weekly

 

          

           

             Dazzling beauty and poignant

             emotion suffuse these illustrations,

             which give an intensely personal

             interpretation of the King James

             Version of the Easter Gospels.

 

                               School Library Journal

                               starred review
Jan Pienkowski, with his ability to tell stories through his own unique artistry, is a gift that both picture book readers and other admirers, have come to linger over and love.
Please enjoy this classic holiday picture book that bears sharing with a young reader, if you are looking for one allowing children, guided by their families, to share in the journey of Holy Week.