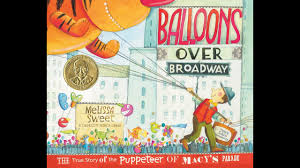 Marionettes and Macy's Thanksgiving Day Parade's History of The Imaginative Tony Sarg in "Balloons Over Broadway" By Melissa Sweet
I have longed for a book on the "Imagineer", pardon me, Disney, for the word theft, that would allow a peek into the creative mind responsible for the lofty helium-filled characters that fill the skies on Thanksgiving morning above Broadway, in New York City.
My wish has been fulfilled in the picture book, "Balloons Over Broadway" by Caldecott Honor winner, Melissa Sweet.
Meet Tony Sarg, or Anthony Frederick Sarg, as a young boy who inherited his grandmother's toy collection. And from that early childhood collection, came his fascination with marionettes His collection, he now believes, rivals the famous Kensington Museum's!
I can identify with Tony Sarg's fascination with animated toys. If you have ever seen the Alastair Sim 1954 version of "The Christmas Carol", there is a scene where Tiny Tim pauses beside Mrs. Cratchit before a toy store window.
Tiny Tim laughs at the marionettes and moving toys in the window, especially the roly poly clown whom he cannot help but laugh along with…especially as his face falls as a sail boat he fancies is removed for purchase. I always loved AND was a bit saddened at that scene…even today.
For the uninitiated, marionettes are figures manipulated above, by strings. Tony Sarg was fascinated from a single phrase from a book that opined:
"Would that an artist and enthusiast would revive this ancient art of the theatre.
From London to the heart of New York City and on to the "biggest store on earth," called Macy's, Tony's creative talents flourish.
There, he initially created what came to be known at Macy's as "Wondertown windows where "mechanical marionettes danced across the stage as if by magic" to delight passersby in the midst of shopping.
Tasked with initially creating a parade for Macy employees of costumes and horse drawn floats, that early beginning eventually morphed into the first 1924 parade, winding its way from Harlem to Herald Square.
So successful was it that the determination is made to do one every year…on Thanksgiving Day,
R. H. Macy asked Tony Sarg to come up with something SPECTACULAR. Seems the live bears, elephants, tigers and lions in cages, create such a noise, it frightens the kiddies.
Tony knew of a company in Ohio that made blimps out of rubber – the perfect material for any weather. When he called the company to show them his sketches, they agreed to make what Tony wanted
Some of these were as high as 16 feet, BUT there was a problem. Stiff and heavy sticks controlled the puppets. And the crowds so packed the parade route that it made it difficult for all to see.
With a marionette, the controls are ABOVE and the puppet hands down.
Tony wanted his puppets to move and have gestures.
But what if the controls were BELOW and the Puppet could RISE up?
Rubberized silk was the new material, And instead of AIR, helium was added to allow the balloons to rise!
High above the crowds, they flounced in the afternoon wind pulling the rope handlers this way and that. Yet with every heave-ho, the balloons gestured and articulated like wild puppets and the crowd screamed for more.
Tony's daughter Mary remarked once, "Quite simply, Tony Sarg just never grew up."
Melissa Sweet's art is as bright and bouncy as the Macy balloons themselves, providing the necessary verve and excitement of this joyful inventor's journey on the edge of a wonderful creation to delight the eye for of parade viewers for generations.
And, after reading this ALA Notable book and Junior Literary Guild Selection called "Balloons Over Broadway," you will be happy to echo his daughter's words.