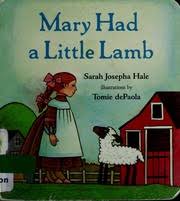 We All Know That Mary Had a Little Lamb, BUT, "Mary Had a Little Lamb" by Sara Josepha Hale; illustrations by Tomie dePaola Gives The Inside Scoop!
What child….or adult has not heard, or cannot recite, "Mary had a Little Lamb."
It is an iconic poem set to music by a woman known for so much more than Mary's lamb, and therein lies a tail er tale.
American children first heard of Mary and her lamb in a 24-poem called "Mary's Lamb" that appeared in "Poems for Our Children" in 1830.
Tomie de Paola has put together a most informative and delightful pass at not merely the accompanying art to this iconic poem, but the story of Mary's pet following her to school, waiting with great patience outside for Mary, and the teacher's explanation for why Mary's lamb has such devotion to her.
If you've not heard of Sara Josepha Hale, Tomie has done a thorough job of research on Ms. Hale and her accomplishments that accompany the poem.
He visited the Richards Free Library in Newport, New Hampshire, where she was born.
Photographing the architecture in the town, he incorporated the art from many houses, including Ms. Hale's in Newport, throughout the illustrations of the poem.
Tomie took every consideration that the books that he worked on, which he knew ultimately would be touching a child's mind and heart, he believed were a responsibility and effort that he took seriously.
In his research, Tomie found that Ms. Hale was a remarkable woman.
Married in 1813, she had five children. Widowed some nine years later, in orderr to support her family, she became the editor of "Ladies Magazine." Later she was editor of the widely read "Godey's Lady's Book."
She retired at ninety years of age and was the first woman editor in the United States.
Tomie  informs his young readers that Ms. Hale ate grapes every day of her life. Guess she felt they had health benefits. And living til ninety in those days was no mean feat.
But aside from 'Mary's Lamb" that eventually found its way into the famous and widely used "McGuffey's Reader," which was used in schools all over the country, Ms. Hale is to be thanked for something else.
It is due to her nagging some four United Stated Presidents to have Thanksgiving declared a national holiday, that we celebrate it as such.
Through Millard Fillmore, Franklin Pierce and James Buchanan, she persisted and pestered.
Finally she convinced President Abraham Lincoln to have Thanksgiving declared a national holiday.
Here are the last lines of the poem where the teacher explains to her students the lamb's devotion to Mary.
And so the Teacher turned him out,

    But still he lingered near,

And waited patiently about,

   Till Mary did appear;

And then he ran to her and laid

    His head upon her arm,

As if he said-'I'm not afraid-

    You'll keep me from all harm.'

'What makes the lamb love Mary so?'

     The eager children cry-

'O, Mary loves the lamb, you know,'

     The Teacher did reply;'-

'And you each gentle animal

      In confidence may bind,

And make them follow at your call,

      if you are always kind.'
Tomie dePaola passed on March 30, 2020, and I have been trying to blog on some of his older books that escaped my notice.
This is one of them.
It is a second hand copy and when I opened the book, there was an inscription on the first page that startled me. It said:
To Elizabeth

With love,

Tomie dePaola 1984
I like to think that was no mere accident, but a sign from Tomie that he is happy and still loving the picture books that he put into so many children's hands.
Loved this one, Tomie… and you!