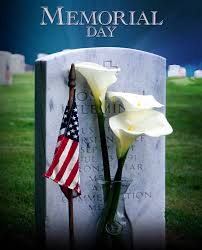 Memorial Day – A Matter of Convenience?
Did you know that May 30th, was the originally designated and traditional day for the observance of Memorial Day way back in 1868? And in 2019, it will be celebrated on May 26th, Snuggery readers. How did that come about? Wasn't it just celebrated a day ago?
That change occurred as a matter of convenience. Congress on June 28, 1968 passed the Uniform Monday Holiday Act which moved 4 holidays, including Memorial Day, from their traditional dates, to a specified Monday in order to create a convenient three day weekend. This Act by Congress changed Memorial Day from its original May 30th date to the last Monday in May.
One General John A. Logan on March 3, 1868 issued a general order designating May 30th as a day for the graves of soldiers, from both the north and south in the great divisive conflict in our national history, known as the Civil War, to be" …strewn with flowers" as a way of honoring their sacrifice.