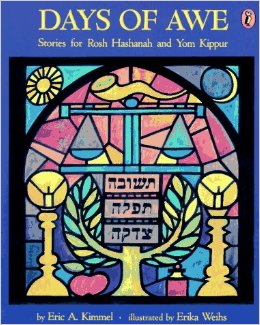 Days of Awe: Stories for Rosh Hashanah and Yom Kippur
By Eric A. Kimmel; illustrated by Erika Weihs
We live in an Information Age. We are flooded daily with it in emails and Internet access. It fills our minds and days.
But, do we have time to reflect on it? Probably not much.
It is a good thing for children and adults to have time to reflect on what is going on around us. Maybe we need more intervals in the fast forward pace of life to think about our daily lives; primarily, what is important, what is not, to how we live our lives.
In "Days of Awe: Stories for Rosh Hashanah and Yom Kippur", young readers are given three stories that reflect the three concepts surrounding these High Holy Days in the Jewish religion. And the concepts are Prayer, Repentance and Charity.
In a world where any news headline of the day feed our minds with a bit of apprehension about the state of things, the three concepts that are mentioned in the book, are a pretty good place to start reflecting on how we live our lives in relationship with other people.
The book contains three stories of people that model religious concepts, implemented in a real and imperfectly challenging world.
Here are stories of malice overcome, a simple song of praise sung in a field, that has as much sincerity as one said in a holy place of worship, and lastly, a miracle made visible to a couple that perform a simple act of kindness.
As people of the Jewish faith approach these times of reverence and profound reflection with their young ones, perhaps books such as "Days of Awe: Stories for Rosh Hashanah and Yom Kippur" may be a fine place to see those religious concepts evidenced in day to day events.
For God can be seen, and even needed, in that day to day hustle and bustle of life, and, in our interactions with each other, felt just as profoundly, as in the Temple or church.
And in the three stories, entitled "The Samovar," ( one of the oldest and best known stories in Jewish folklore outside the Bible), "The Shepherd" (found in a collection of Jewish legends) and "Rabbi Eleazer and the Beggar," (originally version found in the Talmud), Eric Kimmel, with art by Erika Weihs, makes the invisible, very visible for young readers.
Mr. Kimmel, in "A Personal Note," bills himself as a storyteller, as differentiated from a folklorist, who he determines to be a "scholar that strives to be extremely precise about a story's sources." Here is his definition of a storyteller:
           "A storyteller, on the other hand,

is an artist, one link in a long chain

of storyteller that goes back before

the beginnings of recorded history.

A storyteller sees stories as living

things, constantly growing and

changing.

Storytellers always add something of

themselves to the stories they tell.

That is their art."
I hope the storytelling here, adds to the reverence and importance of these High Holy Days.