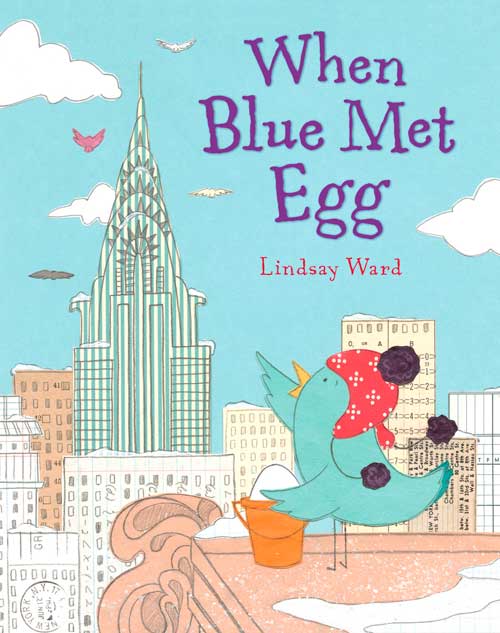 Mother's Day around the corner!
Mother's Day 2012 is May 13th– this weekend! So I've rounded up three picture books which I've posted throughout this week, each with a different message for Mom. Here, in each of these love notes, Mom's love is pictured alternately as underappreciated, inexhaustible and indomitable. I think moms and kids will enjoy each and all of these as they sit down for a cuddle and read.
Don't forget to check out this week's earlier posts: I Love My Mommy Because… and Mars Needs Moms!
Happy Mother's Day!
When Blue Met Egg
By Lindsay Ward
This may seem an unusual choice at first glance for a Mother's Day book. But hear me out. In addition to showing some distinctive and beautiful high points of interest in New York such as the Guggenheim Museum, Central Park carousel, Wollman Rink, Metropolitan Opera House, Brooklyn Bridge and others of note, Blue exemplifies all the best of the maternal instinct. She is loving, protective, selfless and untiring.
It's winter and Blue hears or sees something white whiz by and land in her nest. Cold and oval, she immediately seizes on the assumption that it is an egg and it is alone. Her maternal instincts kick in and she is off to search for Egg's mother. Tucked into a basket she wanders, as I mentioned, through of series of iconic New York sites in her search. Even a trip aboard the Circle Line past the Statue of Liberty comes up empty. A flood of flyers advertising "Lost Egg" yields naught.
But Blue is bent on finding the lost Egg's momma, traveling to Columbus Circle and even to Time's Square to query the birds there. No go. Whether skating, sledding or making snowbirds, Blue has Egg in tow for a perfectly shared afternoon in the park. And as night descends, it's time to huddle in Blue's nest against the oncoming cold. Weeks and months pass as they become a duo.
In April, the weather turns and something wonderful occurs as Blue realizes a change is in the offing for she and Egg. The change is unexpected, revelatory and, as all change for the good, includes growth for both Blue and Egg.
Kids will love this "blooming" ending. Lindsay Ward has fashioned a perfect Spring in New York read featuring well known sites of a bustling city and a small bird on a mission. What she finds inadvertently is that friendship and love and the devotion required are never wasted, even if it takes us in unexpected directions.
P.S. And since I'm a hat person, Blue's pink and purple knit is just my style. Props for fashion sense, Blue!