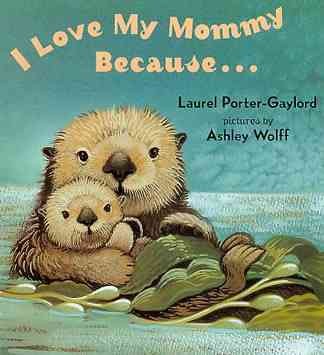 Mother's Day is on it's way!
Mother's Day 2012 is May 13th– just around the corner. So I've rounded up three picture books which I will share with you throughout this week, each with a different message for Mom. Here, in each of these love notes, Mom's love is pictured alternately as under-appreciated, inexhaustible and indomitable. I think moms and kids will enjoy each and all of these as they sit down for a cuddle and read.
Happy Mother's Day!
I Love My Mommy Because…
By Laurel Porter-Gaylord
Pictures by Ashley Wolff
Need an affectionate, cuddle up book for Mom on Mother's Day? I Love My Mommy Because… is it. There are as many reasons to love Mom, whether in the world of humans or animals. Laurel Porter-Gaylord shows us why in great detail.
I'm a bit taken with the first reason, I must admit, as it states, "because she reads me stories." Mom, youngster and Teddy are cozily tucked in an armchair engrossed in a book. This mom definitely knows the way to a child's heart is through a book. Hurray Mom! But scenes quickly switch to a host of other moms such as cats listening to their kittens talk, sheep feeding hungry lambs, koalas giving the joey a ride, deer licking their fawns to a new level of cleanliness, pandas giving great bear hugs and polar bears, not to be outdone, keep cubs warm.
The list and ways love is shown are as many as the type of mom capable of giving that love. The phrases are simple; the illustrations are endearingly elegant with soft hues that play off the sweetness of the twosomes pictured.
The final scene also ends with a child on Mommy's lap. It's the end of the day and curtains billow through an open lamp-lit window. And the phrase used for this twosome is perfect for the scene as is this love of a book, " I love my mommy and my mommy loves me." Awww…ain't it the truth, folks!
***************
Check back in later this week for more great Mother's Day suggestions!