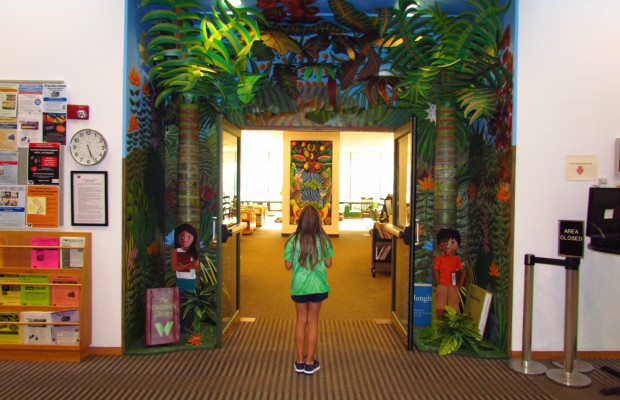 National Take Your Child To a Library Day!
Today, I just discovered, is National Take Your Child to a Library Day. And readers, I  urge you to perhaps take the down time on a weekend (if there is such a thing with small children), to see how libraries have changed since you were a child.
It seems that while a semblance of quiet IS expected, there is perhaps no longer a woman with her hair in a tight bun whispering SHHH in a noise louder than the the conversations going on.
There are much more than story hours going on, though they in themselves are a wonderful introduction to young readers to not only stories, but  also rhymes, fables, finger plays and folk tales.
Also, most libraries offer many other activities for children. Here are just some offered at our local children's library:
Lego Club – A Makerspace off shoot.
Listen, learn and Laugh
Homework Help
Romp and Rhyme
Scrabble Fun
Movie Making – Planning a movie, creating characters and ending with    filming.
For those of you unfamiliar with the term "Makerspace" that I mentioned previously, more and more it appears to be a set aside space in school libraries with even specific time set aside for it each week. Perhaps this new approach to learning is a addendum to the STEAM influx in learning. STEM is a acronym that stands for Science, Technology, Electronics and Math. Some educators, and I count myself among them, advocate for the use of the term "STEAM" with the A standing for the Arts that sometimes gets neglected in the emphasis on technology. More sophisticated Makerspaces may even be equipped with 3-D printers.
Here is only one definition of a Makerspace:
Makerspace is a general term where people get together
to make things. Makerspaces might focus on electronics,
woodworking, sewing, laser cutting, programming, or
some combination of these skills.
Makerspace by S Roslund And E.P. Rogers
In children's libraries, their sections are usually filled with comfortable pint-sized seating, and while hopefully filled with Caldecott and Newbery classic winners, they also feature additional books newly published on a wide variety of fiction and non-fiction titles that may be featured in great publications such as Booklist, The Horn Book, Bulletin of the Center for Children's Books or School Library Journal School among others.
A visit to a library is a great foray for you and your reader, but for me, the most important ingredient in raising a child that reads is to read WITH them and TO them as often as possible. Have books of a wide variety on their nightstand. You will soon learn their favorites as they say, "Read It AGAIN!'  Their comprehension, many times far outweighs their actual reading abilities, so don't be tentative about tackling books with extensive great narrative and challenging vocabulary.
Sustained attention span is important in the learning to read process, as well as listening, and with the rise of technology, sometimes sustained focus that reading requires, is something that is forfeited in the process along with reading for pleasure and the pure joy of getting lost in a book.
Please let your young reader have the wonderful opportunity, along with you, to get lost in a book on your trip to the library today!