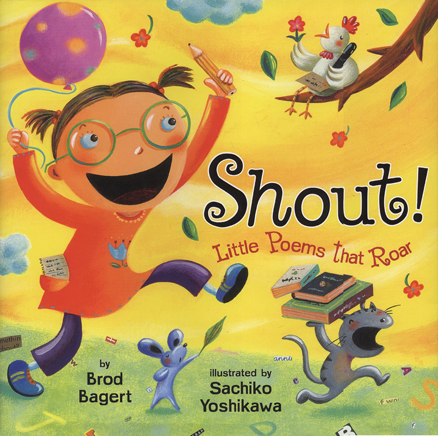 National Poetry Month: Shout! Little Poems That Roar
Shout! Little Poems That Roar by Brod Bagert and illustrations by Sachiko Yoshikawa
Brod Bagert's book is part classroom, part zoo, with its high-energy poetry thrown into the mix at high velocity. This is poetry coming at you with bright, lively colors, and from the first poem, "Shout," it grabs both you and a child's attention with illustrations serving up a bouncy background. Poems interspersing typical school experiences with a positively perky feel such as "Taking Turns," "Alphabet Boogie" and "I Can't Wait" take it up a notch in a joyful, freewheeling poetic voice that's infectious and fun.
The author's commitment to poetry as an art form is unmistakable, as he walked away from a full-time law practice to become a poet—successfully, I might add, as he is now a full-time poet with ten books of poetry for children and adults to his credit.
Lawyers such as these deserve some praise,

When poetry fills up all their days.
Not a great couplet by Shakespearean standards, but my sentiment is sincere and the commitment on Mr. Bagert's part is rare. Wanting, as he states, to have learners "laughing their way into a lifelong love for books" is more than a worthy lifetime pursuit. This book doesn't disappoint, so give it a "Shout" and a look-see.