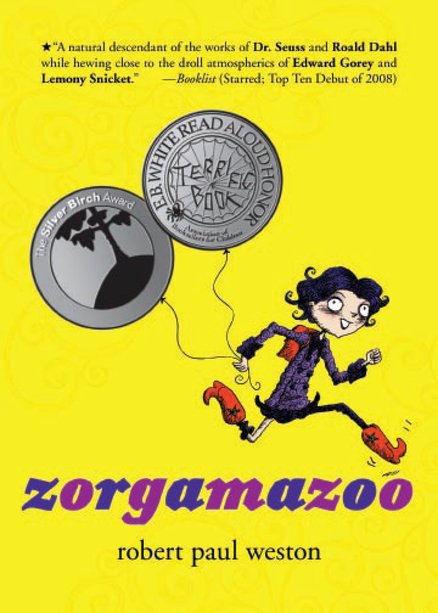 National Poetry Month: Zorgamazoo
Zorgamazoo by Robert Paul Weston
I love books with an opening that pulls you in with a hook, such as:
Here is a story that's stranger than strange.

Before we begin you may want to arrange:

a blanket,

a cushion,

a comfortable seat,

and maybe some cocoa and something to eat.
I can safely tell you I am IN. So will children be who have a leaning toward the legacy of Seuss, Dahl, and perhaps a snip of the Potteresque. Intertwined with a delicious sense of the nonsensical and tinges of disbelief, Robert Paul Weston's hilarious, suspenseful, at times sad and joyful Zorgamazoo neatly wraps it all up in this 280-page novel written in rhyme! Huh? Well, you have to read it to experience it.
Okay, Liz, accolade away. It won The E. B. White 2009 Read-Aloud Honor and the 2010 Silver Birch Award (given by Canadian children in grades 3–6 to a favorite book of the year), and was a 2010 California Young Readers Medal nominee and 2011 Pacific Northwest Library Association's Young Reader's Choice Award nominee. Whew! Not only geographically does this book have it covered in terms of award handouts, but it is a uniquely voiced, to-be-read-aloud salute tailored to the poetic tastes of children. Have you seen Tim Burton's slightly off-center take on children's stories in his Alice in Wonderland? This is right up there with that vision of a bemused, whimsical eye viewing the fanciful as normal and the normal with a slightly ridiculous poke, all given with a wink. Meet Katrina Katrell and the Zorgles, and visit them all in Zorgamazoo.