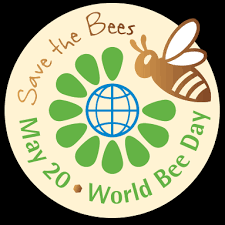 It's World Bee Day! Please Help Your Young Reader Celebrate These Bountiful Beauties That Help Our Farms and Orchards!
You don't have to be a beekeeper to set things buzzing with your young readers as the start of summer is but a week away with Memorial Day, in addition to being a day of sacred remembrance,  generally accepted as the summer's official launch.
One week to go till summer begins its simmer with the added bonus of  today, May 20th, being World Bee Day!
Why not have a "BEE-yoo-tiful" day and celebrate the bees with some picture books for your young reader, along with some locally sourced honey! I will mention just a few picture book titles at the end of this post to help get you started.
In the posting that I read, it also mentioned there is another upcoming summer celebration of our apian friends and that would be on August 21st 2021.
That is celebrated as National Honey Bee Day that touts not just beekeepers, but honey lovers and all things blooming.
The day recognizes both the honey bee and the beekeepers who tend the hives. It also encourages everyone to enjoy, as I mentioned, locally sourced honey.
At our vineyard/orchard/farm, we are fortunate to have a local beekeeper named Laura Klahre, who, each year brings to us "Mason Bees" that are blue-eyed, rarely sting and are fuzzy-backed pollinators of our eight varieties of apples, our peaches, nectarines and other fruits.
Much has been written in the past few years about the collapse of hives and what that portends for humans. Besides being an early warning system for us, their pollinating proclivities are necessary for many plants to both produce and continue thriving.
Honey is the added bonus they provide.
Did you know that honey bees do sting, BUT "only if they perceive a threat, damage to their hive or if they are swatted at? I always wish them well and say, "Have a nice day; now go on your way." And they do! Other suggestions, if they are near are to, either hold still or move away SLOOOOOWLY.
They're probably just seeking out nectar, and maybe that sugary sweet drink you have in your hand, or maybe anything sweet that you are holding, is attracting them.
World Honey Day is a recent celebration begun as National Honey Bee Day in 2009 with a proclamation issued by the then Secretary of Agriculture, Thomas J. Vilsack from Iowa. Who knew?
The former Secretary of Agriculture was Sonny Purdue and he is from the peach state of Georgia. Hey, Mr. Purdue, our peaches are sweet AND sunny, due in no small part to our pollinating partners, the blue-eyed Mason Bees!
I went on the Nationaldaycalendar.com website where there is a bounty of wonderful information on how to celebrate the day with your young readers.
I learned that collecting and planting local wildflower seeds promotes honey bee pollination AND that there are myriad flavors of honey depending on what is available to the bees.
Some of these types of honey are: Clover, alfalfa, lavender, orange and chestnut were but a few that were mentioned.
If you and your young reader are interested in reading more about bees, here are some suggestions:
The Honey Bee – Kirsten Hall

The Bee Book – Charlotte Milner

Bees: A Honeyed History – Piotr Socha

Bee: A Peek-Through Picture Book – Britta Teckentrup

Bee and Me – Alison Jay

Give Bees a Chance – Bethany Barton