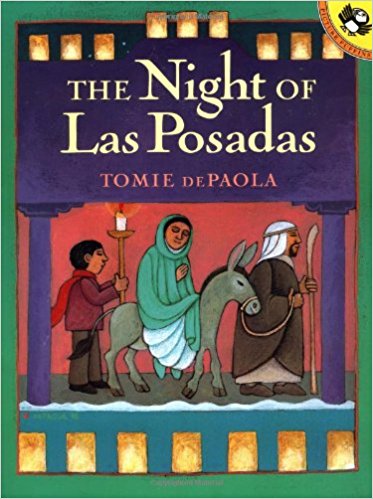 The Night of Las Posadas by Tomie De Paola
Beloved children's picture book author, Tomie De Paola, whose favorite holiday just happens to be Christmas, in his The Night of Las Posadas, gives young readers a beautifully relatable story of this Spanish tradition.
Las Posadas which means "the inns" is a Hispanic religious festival celebrated in Latin America and some parts of the United States from December 16th through December 24th.
In it, a couple modeling Mary and Joseph, go from house to house seeking refuge at each inn or house, posing as the original Mary and Joseph in order to find shelter for their baby to be born.
Young readers will enjoy hearing of Santa Fe's Plaza, with its lit farolitas that cast a light and are brought to glowing reality  by Tomie De Paola's picture book artistry and humanity.
In The Night of Las Posadas, the cast is ready to  be assembled for the re-enactment that is each year shepherded and organized by Sister Angie who has recently celebrated fifty years as a nun but, who alas, is ill with the flu for Las Posadas.
To top it off, Lupe and Roberto, who are to play Mary and Joseph, are stuck in a snowstorm. Who will step in? Will Las Posadas happen?
A mysterious couple appear from nowhere to fulfill the roles of Mary and Joseph, and just as mysteriously disappear into the night when their parts are complete.
To tell you more of this miraculous tale, would be to ruin its ending for your young reader. But, safe to say it is a tale both worth hearing and reading.
Tomie de Paola has provided a glossary of Spanish terms that may be unfamiliar to many readers, as they are interspersed throughout the story and give it a rich feeling of authenticity.
Sister Rita, on entering the church at evening's end will be the recipient of her faithful years of service in the form of a renewed sense that the wondrous does indeed occur right alongside the ordinary.
Young readers will enjoy and be charmed with this glimpse into a Spanish holy day tradition, and perhaps even feel a stronger connection to the possibility of the divine in the every day.