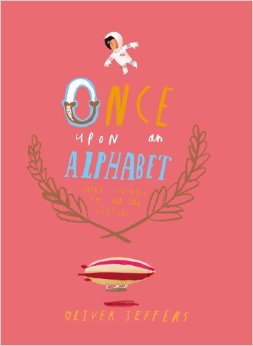 Oliver Jeffers At His Finest
Once Upon an Alphabet: Short Stories for All the Letters
By Oliver Jeffers
I have always loved that phrase…"Once upon a time!" It always signaled a slow drift into an otherworldly episode that rang of kings and genies, trolls under bridges, and sometimes, kids just like me in extraordinary circumstances. I could witness a boy making a seemingly bad trade (but not really), as in a cow for a hill of beans, a young lady trapped in a tower by a witch or even an animal like a turtle outstripping a hare in a race with a steady pace!
Oliver Jeffers, New York Times best selling creator of imaginative picture books of art and whimsy such as "The Day the Crayons Quit" and "Stuck", has 26 new "Once Upon a time" stories involving the letters of the alphabet! I have definitely been on an alphabet picture book kick as school commences. And this one is a keeper.
His long list of accolades include a 2007 designation as official World Book Day illustrator and 2012 New York Times Book Review kudos as one of the year's Best Illustrated Children's Books for "The Hueys in the New Sweater"
By the way, Mr. Jeffers favorite letter had always been "O" because HE was born in October and the letter happens to be, well, WELL-ROUNDED! Love it! Introduce kids early and often to the art of the pun. Let me tell you "Y". Their brain cells are certainly exercised as they try to come up with word associations that relate to the word they are "punning". It's fun, and I have a feeling Mr. Jeffers may love this exercise himself.
His intro to this alphabetical trove of tales starts with:
If words make

up stories,

and letters make up words

then stories are made of letters.

In this menagerie

we have stories,

made FOR all the LETTERS.
Launched with the A for Edmund the ASTRONAUT, we meet someone who has a dizzying fear of HEIGHTS; anything much above three feet is a challenge for Ed! Seems this is a real problem to be negotiated foot by foot, as Edmund's job description of entering space is defined as going, oh about 328,416 feet ABOVE ground level! Let's hope he can RISE to the challenge! Couldn't resist.
Kids will learn lessons from the letter B about two friends named Bernard and Bob about the risky business of burning bridges.
And super heroine wanna be, Danger Delilah, can be seen laughing in the face of the real Grim Reaper, complete with hood and scythe, courting Disaster at his own front door (Disaster apparently resides not far from Delilah) and casually jumping with her stalwart steed through hoops of fire. BUT… there IS one thing she FEARS. The call of her father bellowing at the door with the threat of NO DESSERT if she is not home in five minutes!
Riddle me this for the letter E. "How many elephants can you fit inside an envelope?" Readers will be directed to the letter N for the answer. The answer is actually an *enigma (great word for kids to look up) as in the answer actually is about 9,000 of these might fit INSIDE an elephant! Now where in the name of GOOGLE did that fact come from, Mr. Jeffers?
You'll travel the A to Z trail with these whimsical wayfarers on their way to very short storyland, and in the process, have an excellent time learning and remembering the building blocks of words.
At our farm, we've been traveling dusty roads for the better part of a month. Imagine my surprise when I discovered the answer to the lack of rain lies with ROBOTS of the letter R. They don't like rain clouds so they hoover them from the sky! Reason? Robots hate rust! Makes sense to me.
As we round out with the letter Z, we are reacquainted with the ASTRONAUT, Edmund of letter A fame. Remember, he can't get off the ground? Solution? He's now a steady 4 feet and gaining with the aid of his ZEPPELIN!!
Have a sit down with all 26 letters and their characters or peek at a few at a time, as the mood strikes you and your child, with these alphabetic shaped story wanderings that are both zestful and zany!