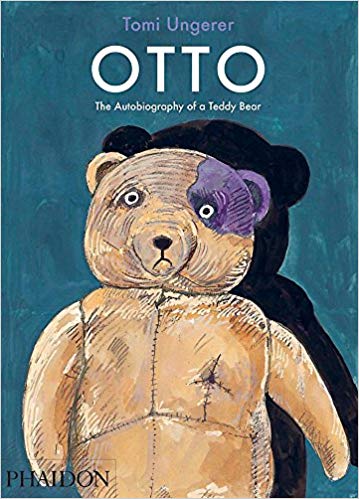 "Otto: The Autobiography of a Teddy Bear" by Tomi Ungerer
Written in French in 1989, and finally published in English in 2010, "Otto: The Autobiography of a Teddy Bear" is a tale by master picture book author Tomi Ungerer. Within its autobiographical travels of a young brown stuffed toy bruin, it manages to capture for young readers all the elements of friendship, innocence, realism, war and resilience.
And in the hands of someone less talented, it might wind up as too maudlin and moody for young readers. It is not.
It is instead a triumph of the spirit within Otto that symbolizes so much more.
In his journey Otto starts off in the hands of the sewer that put him together, and from there as a birthday gifted to the young German Jewish boy named David. and together the two form a firm bond of friendship with their friend, Oskar.
I highly recommend this book as a a way to introduce a child to the concept of war and all the terrible things that it brings to the world. It also explores the time of pre-World War II Germany and how peoples' lives were changed forever.
The bear embarks on a life-time journey that will have you laughing and crying. You will cheer and gasp, but in the end Otto's story, told by the bear himself, will leave your young reader with much to think about, and even some things to smile about.
Pick up this book and marvel at the talents of Tomi Ungerer.