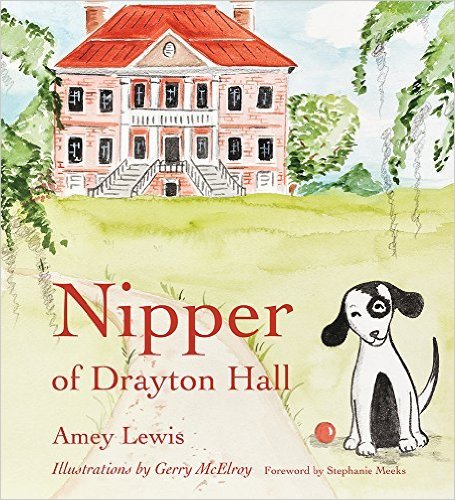 Peek into the Past at Drayton Hall!
Nipper of Drayton Hall
By Amey Lewis; illustrated by Gerry McElroy
Some of you, of a certain age, may remember the dog Nipper, who served as the model for a famous painting by Francis Barraud, called "His Master's Voice." In it, Bristol born, and mostly Jack Russell Nipper, sits, head cocked, listening closely to the sounds pouring from a huge Edison-Bell cylinder phonograph. This iconic image later served as the logo for companies, including RCA.
Well, here's another fresh, friendly and factual Nipper, fashioned from the pages of a historically (mostly) accurate account and adventuring of an ever curious pooch, his mistress Charlotta Drayton and her friend, eight year old Richmond Bowen.
Pictures books like "Nipper of Drayton Hall" give an "aliveness" to the dust of dry historical facts and brings them, through stories such as these, freshly minted anew, to the minds of children.
And, let's be truthful, don't we all remember people and their stories, more than all those recitation of mere dates and facts?
So, here with the red-ball-chasing Nipper, picture book readers are given a window into a time and place of a quite singular plantation history; a place called Drayton Hall in South Carolina, rightly claimed as "the oldest preserved plantation house in America."
Its young readers will meet its owner, Charlotta Drayton of Charleston, and her  keen and dignified preservation of this plantation's heritage that had been in her family since 1738.
The events of the picture book chronicle a softening spring visit by Ms. Drayton and the lively Nipper to the plantation in 1916.
Accompanying Charlotta and Nipper, who  was actually said to "have the run of Drayton Hall," are family retainers, Emma and Sam.
And the book is a lively look into a day full of events – with Nipper in the lead, as the day's  adventures unfold, and are told, through his eyes.
This picture book has a palpable feeling of time and place that is very engaging, and young readers will fall for the lovable and lively Nipper.
Perhaps after reading "Nipper of Drayton Hall", you and your young reader might genuinely feel that this place called Drayton Hall is not just a preserved relic in time, but a living, breathing place that, like Nipper, is alive with possibilities for exploration.
And isn't that exactly how we want our children to view history in general?
The storyline opens after a lengthy car ride from Charleston to Drayton Hall, with the travelers greeted by young Richmond Bowen, who calls Nipper "Mr. Business," because "you just mind your own business while checkin' on everybody else's."
Picture books have to combine word and image if they want to fire the mind of young readers with interest and imagination.
And artist, Gerry McElroy, has done an exemplary job of bringing Nipper and the world of Drayton Hall to life with her lively and intelligent water color drawings.
And Amey Lewis has told this "just-about-true" series of episodes at Drayton Hall, as seen through the eyes of none other than young Nipper himself, with passion and pace, interspersing facts with a fine eye for detail.
Young readers will learn what a "Ha ha" is, what the Latin phrase, "Hac item ad astra" means, written at the bottom of a painting over the fireplace at the plantation, but more than that, they will enjoy a full day of fun with the cavorting canine called Nipper.
Whether Nipper's watching out for gators, while entranced by his own image in the river, enjoying tea in azalea laden gardens with Charlotta, having a quick game of hide-and-seek with young Richmond, or digging a ton of holes as he dutifully assists the young boy in the prep for planting of red camellias, Nipper is a dog on the move, and in love with Drayton Hall and its beauty.
And so, too, will you and your young reader be!
Please read the "Postscript" at the back that gives in depth word portraits of the principals, a "Timeline" of Drayton Hall's history, plus a "Glossary" that gives meaning to the gentility of long ago life, defining words used in the story, such as "cartouche."
Why not introduce your young reader to a refreshingly perfect peek into the past that allows young readers, and their parents, a doorway into it – and later, it may just provide the impetus for a visit to the real Drayton Hall near the banks of the Ashley River in the South Carolina of today!
But before you do, you just might find yourself falling in love with a dog named Nipper in "Nipper of Drayton Hall."
I'm planning a visit in 2016!