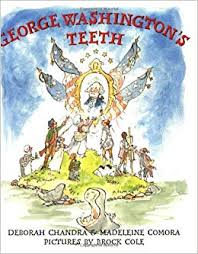 Now Here's a Picture Book About Washington That You Can Sink Your Teeth Into! And Today, April 30, in 1789, Some 232 Years Ago, Marks the Day George Washington was Inaugurated as the First President of the United States.
George Washington's Teeth
By Deborah Chandra and Madeline Comora; pictures by Brock Cole
Presidents Lincoln and Washington, in years past, traditionally had their individual days to be celebrated as larger than life political role models. Lincoln's observance was usually on February 12th, and Washington's on February 22nd.
If you walked down the hallway of most any elementary school, there would be silhouettes of Abe and George, lining the hallways, fashioned by eager young hands who knew the bare bones facts about these two. Now we have Presidents day when it seems all presidents are celebrated.
What I love, and I'm sure kids do too, is making the facts surrounding historical figures interesting and even funny. It certainly adds to the ability of a young reader to relate to these giants of history. Dates and events, when related with a bit of fun, will stay in young readers' memory banks.
Well, Ms. Chandra and Comora have hit on a way to do it, at least with George Washington. Think back to probably the biggest piece of trivial info on General Washington. If you just said he had a set of wooden teeth, you'd be wrong. But if you said he had dental issues that resulted in tooth loss and then related their timely loss to historical events of his life, now you're into little known and sometimes funny facts that kids go for. Here are two reviews:
"This accurate and intriguing slice of history should find a place in any elementary school library."–School Library Journal, Starred Review
"…[a] breezy, sympathetic, carefully researched vignette…[one] that will have readers feeling the great man's pain – and never looking at his painted visage the same way again."–Kirkus Reviews, Starred Review
As we follow George's dental issues, charted alongside the historical achievements of his leadership as the Father of Our Country, kids will find the poor man crossing the icy Delaware on Christmas Eve with only nine teeth in his mouth and in the dark and rocking boat, he lost two more! At Valley Forge, in the shivering cold that is enough to make your teeth rattle, he had but seven left to chatter with!
But never fear, as George approaches a complete tooth deficit, an amazing dentist fashions false teeth for him out of, not wood, but HIPPO TUSKS. Now you're talking! Happy teeth make one happy George.
At the end of the book, the authors include a timeline that recounts from Washington's own diaries and letters, his dental distresses and the years they occurred.
Even after the War for Independence was won, George hid out the night of his wife Martha's ball, because he had only FIVE teeth left, and after the dentist left, three more dropped from view!
Any book that can take historical fact and use it to enhance the humanity of larger than life figures is a young readers' book worth having.
Brock Cole's drawings in soft pastels are very good at capturing expressions of surprise, coupled with determination and even pain. They're wittily whimsical.
Kids will be checking out the last set of dentures Washington wore that are shown in the final pages. And in his accounting books in the period 1772-1792, we find his dental bills amounting to a whopping $1,000. Even by colonial standards that is a lot of money.
Have fun reading about George's historical exploits as they run neck and neck with his loss of dentine. It's a story you can sink you teeth into!
Ooh, now that hurt!