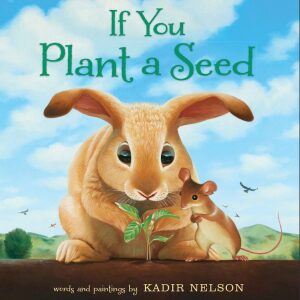 Plant a Seed of Kindness on Feed the Birds Day, February 3, 2023.
If You Plant a Seed
By Kadir Nelson
My husband and I are on a new and unique journey – at least for us. For more than forty years we have both been involved in some way in the feeding of people with information and the ability to imagine, through books.
Now with our vineyard/orchard/farm, we are literally feeding them. We have short circuited the joy of our former jobs, just a tad, to the elementals that make the rest possible. In a word: food. For that, too, is one essential thing that nourishes us.
There are many forms of nourishing. I guess that's because in my time at the farm, it's taught me that we humans need a lot of different kinds. Our entire mind, body and spirit needs nourishing – constantly.
And that is a long way round to this picture book I have come to love called, "If You Plant a Seed" by Kadir Nelson. Seeds grow things, and ideas are sort of in the same realm of reality. But how can you simply convey "the value of a value" to a child?
Kadir Nelson has done it beautifully with his deceptively simple story of the initial planting of seeds by a hare and a mouse.
Don't know whether his choice of a rodent and a rabbit are significant at all, but they are endearing as they plant their seeds of cabbages, carrots, and tomatoes, watch them grow, and then gobble up their grown goodies.
Life is good. Life is great. Until several pair of staring eyes greet them. A dove, chickadee, cardinal, blue jay and crow enter their domain. Hmmm. What to do?
Share or defend?
Kadir Nelson's art of these animals and avians fill the pages of his picture book in a huge way that seems to signify both they, and the choices they are about to make, are BIG. As big as the hearts they have or should have:
"If you plant a seed of selfishness,

it will grow."
It's a simple choice or maybe not so simple, when rabbit and rodent refuse to share.
Chaos ensues and a food fight of epic proportions begins and ends with no winners. Destruction of the bounty is the result. It's both funny and fitting.
The small mouse is the first of the two to "Plant a seed of kindness." He shyly proffers a small tomato to the crow.
In no time at all, the "fruits of kindness" descend on rabbit and rodent from the skies, via the birds, in new seedlings as a gift because of the former's late seeded sharing and kindness.
The new seeds, showered by the birds, produce, not over night, but in time, luscious corn, watermelons, sunflowers and more. And this time, everyone participated in the planting!
Through sharing the literal and figurative "seeds of kindness", the animals have instituted their own farm co operative that provides a bounty for all.
Mr. Nelson's art is as bold and bright as the veggies and fruits his animal anticipators are growing. But his book, as entertaining and delightfully artistic as it is, offers some seeds that are a whole lot more nourishing than mere food.
He has found a tale to teach compassion, generosity and kindness to kids in a unique and appealing way.
Whatever we choose to feed in our child's life will grow. As parents we want them to grow healthy and strong, sometimes with organically grown goodness from a non pesticide use farm, if what I read and see more and more on store shelves is reflective of what we consumers believe to be true. Non GMO is the order of the day, and "gluten free" is prominently featured on food products. We want healthy children assuredly.
Kadir Nelson's, "If You Plant a Seed", is a potent portent of whatever else they are fed, bears a harvest just as important as a food related one – and maybe even more life changing!
Hey, we're planting plum cots today! They're a cross between a plum and an apricot. They are fleshy, sweet and delicious. And we do share with anyone that comes our way.
And speaking of planting seeds today, February 3rd, happens to be "Feed the Birds Day."
It is celebrated to bring attention to the extra help that birds need right now to negotiate the harshness of winter when nature's usual bounty is in short supply, before spring renews the wealth of foods to draw upon.
Listen to this wonderful song from Walt Disney's "Mary Poppins" called "Feed the Birds."