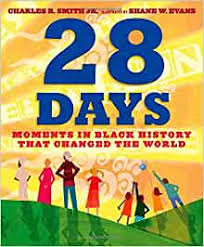 28 Days: Moments in Black History That Changed the World By Charles R. Smith, Jr; illustrations by Shane W. Evans
Charles R. Smith, Jr. is an award-winning author, photographer and poet with over thirty books to his credit.
His awards include the Coretta Scott King Award for his photographs (2010) accompanying the Langston Hughes poem, "My People" and a Coretta Scott King Award Author Honor Award (2008) for his biography of Muhammad Ali , "Twelve Rounds to Glory."
Beginning on March 5, 1770 Day 1, Crispus Attucks, a runaway slave, is shot by a British soldier, beginning the infamous Boston Massacre "and ultimately, the Revolutionary War."
To January 20, 2009 Day 28, Barack Obama is inaugurated as the first black president of the United States. 239 years intervene between these two dates in the history of Black America's contribution to the cause of freedom and liberty here and abroad, even though those freedoms were late in coming to the individual as proclaimed in the Declaration of Independence.
And in those 239 intervening years in black history, here are but a few of the people denoting one for each of the 28 days of February of Black History month whose achievements and names may be familiar to young readers…. or not; but will be after reading this book:
Dred Scott
Daniel Hale Williams
Mathew Henson
Harriet Tubman
Henry Johnson
Madam C.J. Walker
Bessie Colman
Jesse Owens
Marion Anderson
Jackie Robinson
Rosa Parks
Althea Gibson
Arthur Ashe
Little Rock Nine
Wilma Rudolph
Martin Luther King, Jr.
Malcom X
Thurgood Marshall
Shirley Chisholm
Hank Aaron
Guion "Guy Bluford
May Jemison
Nelson Mandela
Oprah Winfrey
Some of the above names may be better known than others to young readers as they are athletes, politicians, or artists, but included are also important Supreme Court decisions such as Plessy v. Ferguson and Brown v. Board of Education which are important in the slow and inexorable journey toward equal rights for black people.
And the ones that stick out to me are the everyday black Americans such as the "Little Rock Nine" who had the strength and grit to desegregate Little Rock, Arkansas' Central High School on September 25, 1957. Although they were teenagers and accompanied by the National Guard, their determination is genuine and an inspiration to young readers.
Award winning illustrator, Shane Evans' bold use of tone and texture is vivid and full of life, lending credence to each of the 28 names and their deserved place in this book. Their names and faces leap off the page and dare one to ignore either them or their life and achievements, known to history or writ small in its annals.
Please let your young readers know them.