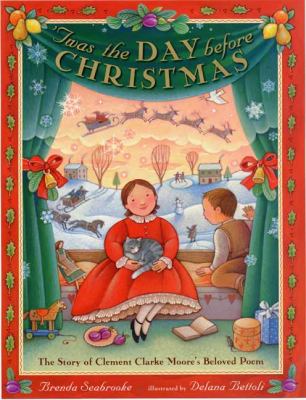 One More Post for the Holidays!
'Twas the Day Before Christmas: The Story of Clement Clarke Moore's Beloved Poem
By Brenda Seabrook illustrated by Delana Bettoli
I think I'm pretty safe in saying that this famous poem called "A Visit from St. Nicholas" penned by Clement Clarke Moore in 1822 as a surprise for his six children, will probably be read and reread as a family tradition this Christmas Eve, in homes near and far.
But, what may be less well known is the story behind the poem, or as they say, "the story behind the story." And for my money, those are sometimes the more interesting stories that may even outweigh the poem itself. But not by much, for it's a great story and a greater poem.
For I love, and I hope you do too, these tales that dig into the creative process of a piece of literature. They let the reader have a peek into what motivated the author,  what got his creative juices flowing, and here, all this, despite a nearing and definite deadline.
Now that is almost as good a piece of storytelling as "A Visit from St. Nicholas" itself.
It involves a "secret" surprise promise of a poem to be written by Clement Clarke Moore for his six children on the Christmas Eve of 1822. The secret is shared with but one of his children named Charity. Will she tell? Read on, as they say, to find out.
Time is tight and there are errands to run and gifts to be bought…and a poem to be written. All this to be done before Christmas Eve dinner is served. No pressure, Mr. Moore.
For Mr. Moore's children had gotten quite used to that tradition of sitting by the fire while their father spun tales post dinner.
But what would the theme of this Christmas Eve tale entail?
Moore pores over his friend Washington Irving's accounts of Christmas in something called "Knickerbocker Tales."
And as both Moore, and wife Eliza have descended from the first Dutch settlers of New Amsterdam, New York, stories of Saint Nicholas abound.
How do you incorporate the joy and wonder of childhood Christmas to children in one poem…and write it in one night?
On Moore's errand-filled four mile sleigh ride into Greenwich, journeying from and back to his hundred acre farm, he passes fields and farms framed with the new-fallen snow of the night before.
And from that ride comes a slew of inspirational phrases. From his sleigh driver, Patrick, whistling the words,  "On Dasher! On Dancer" to Moore's team of horses, to spying a nightcap atop a man's head poking out a window as the sleigh cruises by, to wishing the sleigh could move faster and fairly fly over the house tops as he had on observed a balloon do in his youth, Clement Clarke Moore creatively catalogues each scene, each encounter and each memory. And he uses it later that night to great effect when he finally puts quill to paper.
Even the syncopated beat of the clopping of the team's horses' hooves provide the inspiration of the rhythm of his Christmas Eve memory poem, written for his children.
Can he put himself into the mind of his children, or any children for that matter, as they anticipate what it is like to await, dream and imagine the arrival of Saint Nicholas, snug in their beds?
My money is on Moore.
Even Piet, the old Dutch handyman, whose beard is as white as snow, provides Moore with inspiration as Piet slings the bag over his shoulder carrying the family Christmas turkey. Of course, it does help that Piet's red nose, chilled from the cold, reminded Moore of Saint Nicholas himself.
Can Moore do it? Will he finish the last scrawl from the quilled pen before dinner is served as the six Moore children await the after dinner treat. And yes, Charity has kept the secret for Papa.
Silence greets the finish of his reading. Is it a hit with the younger set? A second, third and even fourth clamor for a reread, proves its worth to his audience.
Sometimes the best presents don't come wrapped in bows and paper. They are the ones we create with the heart. And Moore's heartfelt attempt to achieve magic for his children on Christmas Eve has transcended time.
For Clement Clarke Moore did just that for his six children and for generations of children that both hear and recite his poem, "A Visit from St. Nicholas," written from images culled on that frosty winter Christmas Eve sleigh ride in 1822.
Please do take that famous ride again this Christmas Eve with your children as you read with them this well-researched picture book, beginning with a father's secret promise to a child, and ending with its fulfillment that still continues to gladden the heart of childhood in 2015.