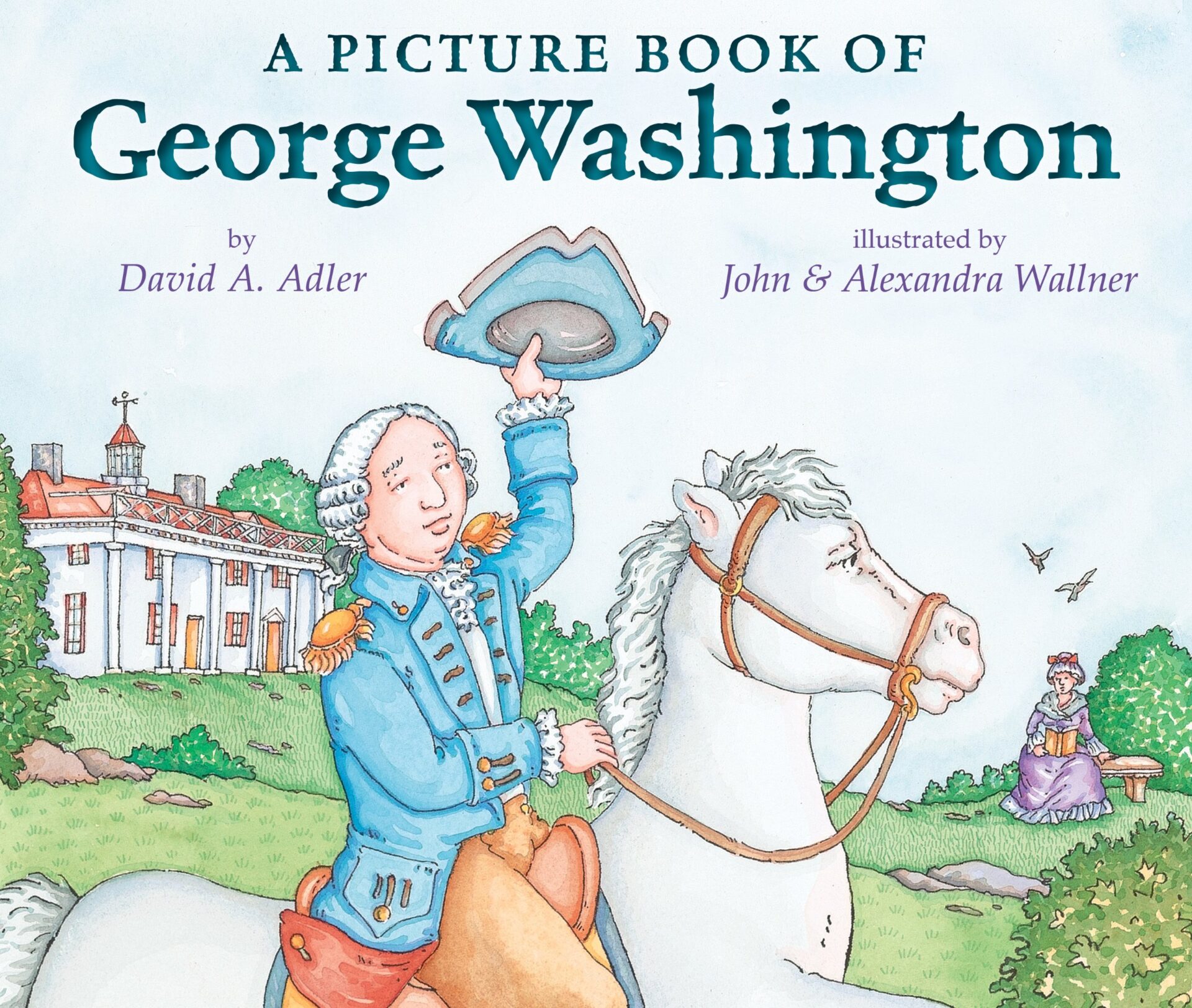 Who Was Our First President?
A Picture Book of George Washington
By David A. Adler; illustrated by John and Alexandra Wallner
George Washington, Father of Our Country, was a man after my own heart.
He practiced his handwriting by copying lists of rules such as "Keep your fingers clean." and "Think before you speak." In my "Return to cursive writing campaign", George is my new poster boy! He knew how to sign his name on all those documents he was handed to peruse over his years as general and president.
Mr. Adler neatly covers all the bases of the basics about this visionary president. But, he does one additional thing that dry historical facts fail to do.
He makes him fully human, and thereby produces a picture book that young readers will both learn from, and enjoy reading. And let's face it; if they don't pick up the book, it may be the best treatise ever on this much beloved president, but it's not going to move them.
George and I do part company, however, when it comes to arithmetic or mathematics, as it is known today. He loved it; I – not so much. This enjoyment of arithmetic led to his first job as a surveyor in Virginia. And at 21, he joined the Virginia army, and in the French and Indian War fought on the side of England where his fame as leader and possessor of bravery, spread through the thirteen colonies.
Ah! Love finds George and at 26, marries Martha Custis, a wealthy widow with two children. They decamp to Mt. Vernon where they set up house.
Oh, but here comes that Boston Tea Party because of British taxes, and the fighting commences between England and the colonies at Lexington and Concord. And guess whom the colonists choose to lead the new Continental army? It's George, by George!
After an eight year war, with overwhelming odds against him, George is victorious and, a hero. Who better to pick as POTUS of this brand spanking new, United States of America?
After serving eight years, he retreated to his beloved Mt. Vernon. I love the art page pictured by John and Alexandra Wallner, here that shows George galloping across his farm; it was something he apparently loved to do, with a dog in hot pursuit!
Did you know that George sometimes rode fifteen MILES on his horse to see the new capital of Washington being constructed? Wonder where they got the name?
"First in war, first in peace and first in the hearts of his countrymen," is a famous quote describing George.
There are no anecdotes about his wooden or ivory teeth (take your pick of their composition), here in this lovely, softly pastel picture book portrait of the first president whose birthday we celebrate this month.
Mr. Adler and the Wallners have given us a finely worded picture book for your young reader of a president that shaped a nation – and he seems a nice man, too!
Well done George; and Martha too! What's that saying? "Behind every great man, there is a woman!"
Now, there is a story!
How about "Founding Mothers: Remembering the Ladies" by Cokie Roberts; art by Diane Goode?